Mindful Doodles #92:
One afternoon, I was at a bus stop waiting for my bus when a couple of women sat down on a bench adjacent to mine. Then a man walked by and stood in front of the women. I thought he was with them, as part of their group. He faced them and coolly looked at them. Then my bus arrived. The man did an about turn, and boarded this bus. The two women did not. I realized he was not a part of their group. So he was unabashedly staring at them and hoping to pick up a woman. He probably has an addiction or OCD to sexy women.
Paragraph written for the Writing prompt –
I used to think that humans are malleable. That they would recover from non-fatal illnesses. I thought mental disorders are not terminal and curable, just because humans are supposed to be malleable enough to return to a certain state of equilibrium. I expected a sick person to recover. I was wrong. My expectancy slowly turned to despair. Every day, my sobbing went ignored because the person who caused distress was mentally challenged. I saw creepy expressions not meant to be witnessed by others, least of all, me.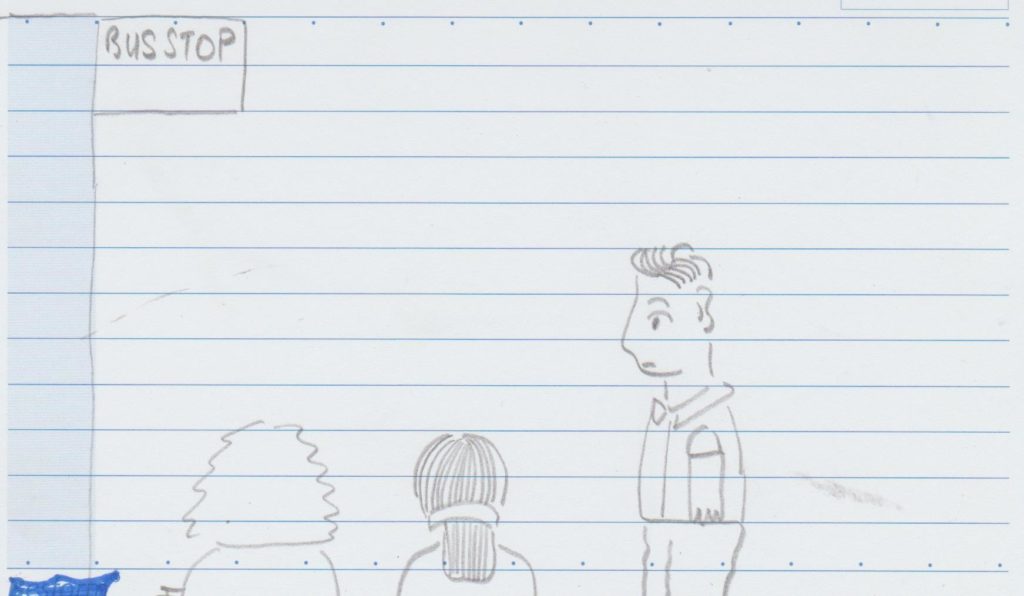 Mindful Doodles is a series of comic/ cartoon drawn on assimilating stimuli that comes into my mind. My surrounding and environment are dynamic. As events happen, the stimuli enters my brain and I pay attention to them. I am not mentally disturbed as I pay due respect to each stimulus. I ponder upon how I would deal with the stimulus, to manage the situation. I try to discover what lesson the Universe bestows on me in this encounter. I write my discovery as my Mindful Thought of the Day.
Why be mindful? By paying time and attention to a disturbing stimulus, you deal  with it. It ceases to be new and disruptive to you. You have released anxiety. You have greatly reduced your mental stress.
Mindful Thought of the Day:
Be mindful of your immediate surrounding, to be alert for stalkers or harm.