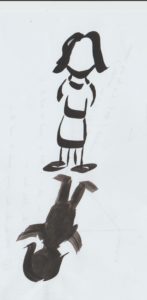 Woman was defaced because her face got eaten by frostbite. Her angry shadow blames others for her predicament. I'm sorry the angle of the shadow is not quite right. I'll re-draw later on. This black ink painting was done to participate in –
++ DAILY DRAWING PROMPT 20181002: FROST-BITTEN FACELESS WOMAN ++#drawingprompt #spooktober

— GUIDO v5 (@realOMU) October 2, 2018

—
++ DAILY DRAWING PROMPT 20181003: ANGRY SHADOW ++#drawingprompt #spooktober

— GUIDO v5 (@realOMU) October 3, 2018

—
I combined two drawing prompts because this was the perfect opportunity. Thanks, Guido!
Dream interpretation of faceless woman:
Every normal dreamer would be able to see people's faces in dreams. It is abnormal to see faceless people in dreams. Usually we can recognize the faces in dreams. Sometimes, the faces are not exactly from people we know, but are composites of faces we have seen. A faceless person in a dream would reflect the state of mind of the dreamer and this truth is not good. For usually only sick people with troubled minds and/or physical and emotional states, will see monsters and abnormality in dreams.
Dream interpretation of angry shadow:
A shadow should always obey the law of light. As a shadow is cast by the person or object, when light shines behind it/ them. A shadow is incapable of expression by itself. To dream of a shadow that is different, disobedient (and angry), includes the element of abnormality in the mind of the dreamer.