Mindful Doodles #81:
Mindfulness based cognitive behavior therapy helps in coping with anxieties.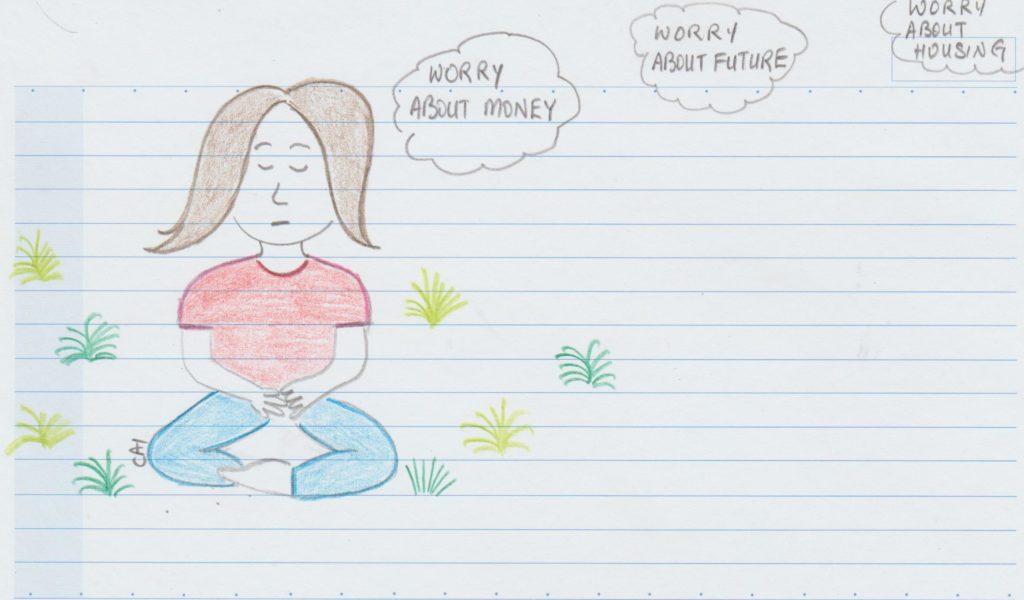 Mindfulness based cognitive behavior therapy –
There are several ways of approaching
(1) Sit in a quiet place.
(2) Breathe deeply slowly. Your mind will continue to chatter with thoughts.
(3) Slow down. Focus on one thought at a time.
(4) Now put that anxiety on a cloud. Say, "Hey, anxiety 1, you are going away. Bye-bye!" You are not thinking about this worry anymore because it has gone away.
(5) Breathe deeply.
(6) Is there another worrying thought in your mind? Repeat steps 4 and 5. Like this, say good-bye to anxieties and worrisome thoughts. You are free. You will face the day and life, with new, positive energy.
Mindful Doodles is a series of comic/ cartoon drawn on assimilating stimuli that comes into my mind. My surrounding and environment are dynamic. As events happen, the stimuli enters my brain and I pay attention to them. I am not mentally disturbed as I pay due respect to each stimulus. I ponder upon how I would deal with the stimulus, to manage the situation. I try to discover what lesson the Universe bestows on me in this encounter. I write my discovery as my Mindful Thought of the Day.
Why be mindful? By paying time and attention to a disturbing stimulus, you deal  with it. It ceases to be new and disruptive to you. You have released anxiety. You have greatly reduced your mental stress.
Mindful Thought of the Day:
Try approaches to resolve anxieties and worries. Don't allow mental stress to eat at you.