Mindful Doodles #94:
This man has to water plants in his garden and informs his daughter not to disturb him while he is at his chore.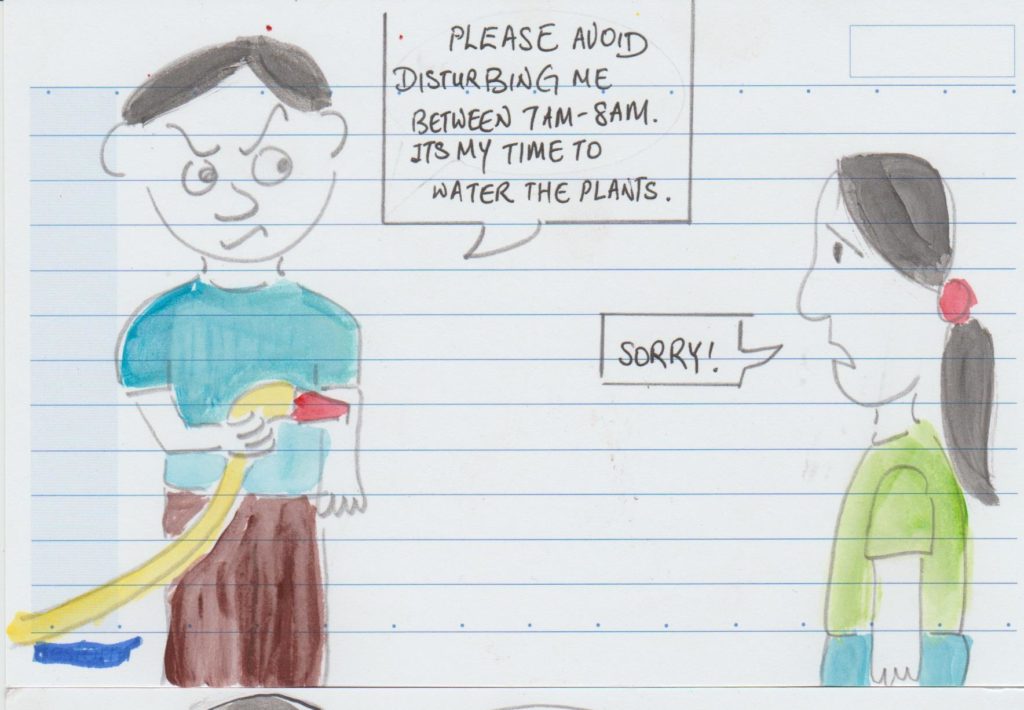 Prose written for prompt Wordle #218.
Little MISS couldn't stop her speech ENGINE. She wanted to SWAP a QUIET for talkative. She went to her Dad, who refused to DISLODGE his watering routine. She had no PLATFORM TO let her engine run. She wished she had a VOLUTE, to sound her horn. Her Dad's PARTING shot was to warn her against disturbing him while he was watering his plants. She felt like he was being a HYPOCRITE for abandoning her to amuse herself while he had something important to do. Being quiet was like DOOMSDAY to her. Her FRAMEWORK for the day was not complete. She had to find the CAT to talk to it.
Mindful Doodles is a series of comic/ cartoon drawn on assimilating stimuli that comes into my mind. My surrounding and environment are dynamic. As events happen, the stimuli enters my brain and I pay attention to them. I am not mentally disturbed as I pay due respect to each stimulus. I ponder upon how I would deal with the stimulus, to manage the situation. I try to discover what lesson the Universe bestows on me in this encounter. I write my discovery as my Mindful Thought of the Day.
Why be mindful? By paying time and attention to a disturbing stimulus, you deal  with it. It ceases to be new and disruptive to you. You have released anxiety. You have greatly reduced your mental stress.
Mindful Thought of the Day:
Be mindful of the needs of others. This also pays respect to their personal boundaries and space. Treat others as you would like to be treated yourself.