A middle aged couple walks into the McDonald's restaurant where I was also sitting. They were dressed in T-shirts and shorts. They looked as though they had been walking and was here for a pit stop. They sit at a table nearest to the order counter. The man wants to buy an ice cream cone and offers to get one too for his woman companion. (Let's hope he burned up enough calories during his walk, to warrant the consumption of his ice cream cone.)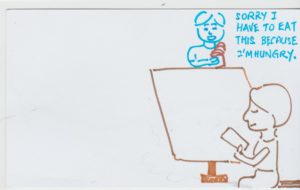 His friend had to wait for him. She didn't want ice cream because she was on a diet. Not even a soft drink because that contains a ton of sugar. She took advantage of McDonald's free WiFi and busied herself with her smartphone. He apologized for making her wait since he had to eat his cone. "No problem," she said and graciously mentioned she was making good use of her time on the internet.
Hey, McDonald's! Your ice cream cones are budget friendly and extremely popular!
This drawing is for the series, Mindful Doodles #17.
Mindful Doodles is a series of comic/ cartoon drawn on assimilating stimuli that comes into my mind. My surrounding and environment are dynamic. As events happen, the stimuli enters my brain and I pay attention to them. I am not mentally disturbed as I pay due respect to each stimulus. I ponder upon how I would deal with the stimulus, to manage the situation. I try to discover what lesson the Universe bestows on me in this encounter.
Mindful Thought of the Day
Patience is a virtue. Waiting for someone to consume their food is gracious.