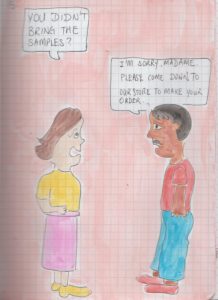 Poor folks don't get to order because only rich folks can pay.
What kind of salesman does not bring samples for the customer to select? The salesman with nothing to sell?
Maybe he did bring the swatches of fabrics in his back pack, but he didn't want us to order without first paying at the store. He could have waited for payment before delivering the goods but here, he removed even the option of getting to choose which type of fabric to order.
I knew Freddy acted with discrimination. He suspected financial hardship and inability to comply with financial obligations, so he cut the chase and directed us to go down to the store to make payment upfront. Thank you for the poignant reminder on social class discrimination.
Prompt – One Daily Prompt "poignant" for Aug. 29 2019.