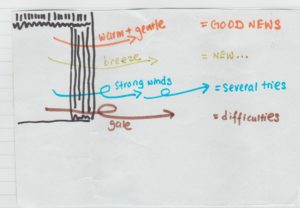 It is unusual to dream of a sensation like the wind. But if you do, the meanings for different types of winds, follow quite closely, their implications in waking life. If you dream of a warm and gentle wind, it foretells you'll receive good news. How can this be so? Its because in waking hours, your brain has received some stimulus/ stimuli that a certain outcome is expected from a event. That is why your brain has triggered a dream symbol and its relevant meaning, to be played out in a dream.
If you dream of a breeze, you'll see new things and events happening in your life in waking hours.
If you dream of a strong wind, it is likely to work against you. This means the wind will blow against you. When you are doing something, the wind will blow against your effort. You will need to try several times, before you can win against the wind.
If you dream of a gale, tornado or cyclone, then it means you're likely to face difficulties in waking life.