Air Stewardess Job Applications are in the links below.
One day, I had a dream to become an air stewardess. It was a far fetched dream to travel the world and earn money to facilitate this life style. I searched online for cabin crew jobs and found several airlines recruiting new flight attendants.
Virgin Atlantic is hiring cabin crew! How to apply to become their air stewardess? You must be at least 18 years old, have a clean record, possess eligibility to live and work in the U.K. own a valid passport and speak English fluently. Candidates who can speak a second language score plus points. Flight attendants have to perform customer service duties. They need to care about people, to provide support for their in-flight comfort. What sets Virgin Atlantic apart from the rest of the airlines? This super airline does not practice age discrimination. Yes, you read that right. You can apply to work as a cabin crew attendant even in middle age. What Virgin looks for in a cabin crew is positive attitude, resilience and flexibility to manage and handle a wide range of situations.
If you have family to care for and desire a ground job, the airlines have several options. Jobs in airport services, clubhouses and contact centers generally would not take you far away from your family. You can get details about these alternative jobs on every airline's website.
Air Hostess Job Interview video here.
Apply for Virgin Atlantic cabin crew jobs here:
Friends based in India may wish to consider Indigo.
In subsequent posts, I shall share my story on how I went from aspirations with my head in the clouds, to other activities which are unrelated to air stewardess, cabin crew and flight attendant.
MindLoveMisery's Menagerie Photo Challenge #216.
Fly this air stewardess to the moon on Virgin Galactic.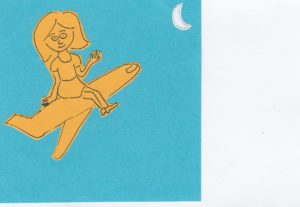 —
This is a comic on the process of how a woman  follows her aspiration to apply for an air stewardess job.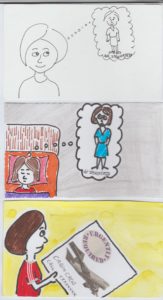 —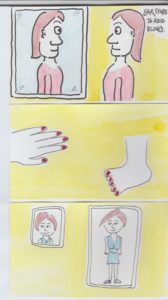 —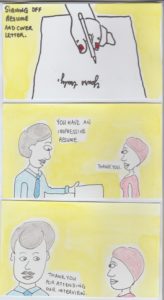 —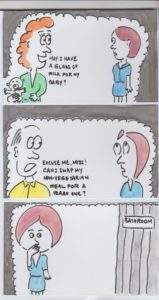 —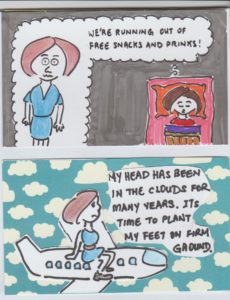 —
China airlines which are actively recruiting cabin crew:
Xiamen Airlines
China Southern Airlines
Spring Airlines
Hainan Airlines
Please visit their websites to apply.
__
Lastly, I thank my Art Mater (Mother of all artists), who has graciously helped my many difficulties.