Mindful Doodles #78:
One day, while I was at the supermarket queue, I saw a male customer behind me. He was dressed in a zip up windbreaker and golf cap. He was holding just two bottles of mineral water. There was no one behind him in the queue. I had a full basket of groceries. I told this man that he could go ahead of me as he was buying only two items. He politely declined but I insisted so he accepted. Later that same day, I saw him again, at the bus stop. He was taking the same bus as I was. He lowered his head avoided my gaze. I recognized him as the male customer at the supermarket, from my earlier encounter. This time, he had stripped off his windbreaker and I saw he was wearing his shirt that said "Security". He works as a security guard. He probably felt shy at being recognized so he lowered his head. I blame myself for offering to let him jump queue, as he felt indebted to me.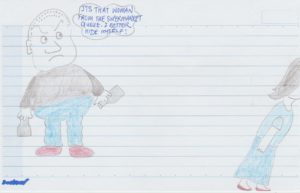 Mindful Doodles is a series of comic/ cartoon drawn on assimilating stimuli that comes into my mind. My surrounding and environment are dynamic. As events happen, the stimuli enters my brain and I pay attention to them. I am not mentally disturbed as I pay due respect to each stimulus. I ponder upon how I would deal with the stimulus, to manage the situation. I try to discover what lesson the Universe bestows on me in this encounter. I write my discovery as my Mindful Thought of the Day.
Why be mindful? By paying time and attention to a disturbing stimulus, you deal` with it. It ceases to be new and disruptive to you. You have released anxiety. You have greatly reduced your mental stress.
Mindful Thought of the Day:
Sometimes, doing a small act of kindness creates ripples of indebtedness.