MLMM's prompt for this Sunday, August 12 2018, was an ink blot picture in the line of Rorschach's Test 3.
There is no right or wrong answer in interpreting what you see in the ink blot picture. Whatever you think the blot is, goes down as valid. The ink blot reminded me of a soft toy, with two ears, two eyes and a mouth with two long fangs dropping down. It has a chubby torso and two stubby feet.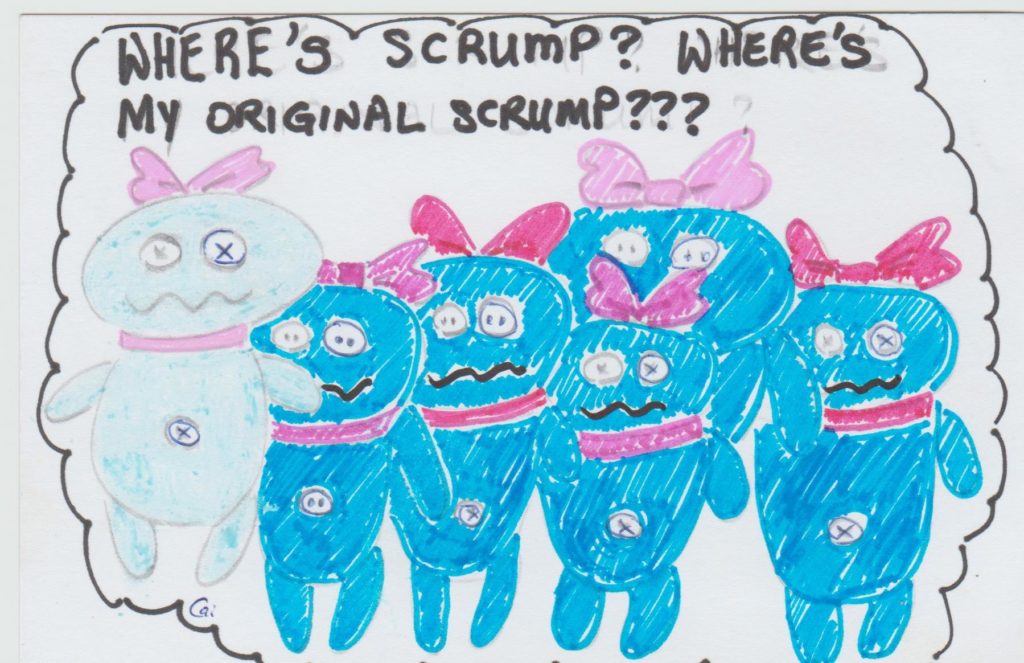 This ink blot reminds me of my favorite soft toy, which is a stuffed Disney character called Scrump. It is a non-binary character who becomes like a side-kick to Lilo, the human girl in blockbuster Lilo and Stitch. It is natural to dream of childhood memories as the brain recalls fragments of experiences stored in memory cells, during sleep. Psychologists say the dream state continues waking reality. A dream of a favorite toy brings back the good emotional feelings.
How dreaming of your favorite childhood toy relates to your waking life
What does it mean to dream of losing my favorite soft toy? In psychology, we learn dreams reflect our mental state during the day. If we are afraid of losing something, or feel insecure and anxious, then this state carries forward into our unconsciousness. Losing a favorite toy is a symbolic image that represents our current preoccupation and stance in waking reality.
Have you ever dreamed of losing a favorite object?
I like following @realOMU for drawing inspiration. I wish I had time to draw all of them. This the prompt for this post's drawings.
++ DAILY DRAWING PROMPT 20180810: DRAW YOUR FAVORITE CHILDHOOD TOY ++#drawingprompt

— GUIDO v5 (@realOMU) August 10, 2018