What's the meaning of dreaming of my paint brush?
I would interpret this dream as my subconscious mind telling me to express an image with my paint brush. I would actually set up my brush, paint and paper, and think about painting what comes into my mind. Then I would relate this image with my current concerns in life. I would ask myself how the image relates to my situation and events that are presently on-going in my life.
I would ask myself if there is a painting that is waiting for completion. Is the paint brush waiting for me to use it to finish an incomplete art?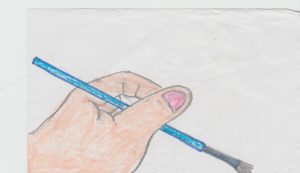 Medium: oil pastel, ink on recycled paper.
Drawing was done to participate in #drawingprompt hosted by:
++ DAILY DRAWING PROMPT 20180831: DRAW SOMETHING YOU WRITE OR DRAW WITH ++#drawingprompt

— GUIDO v5 (@realOMU) August 31, 2018