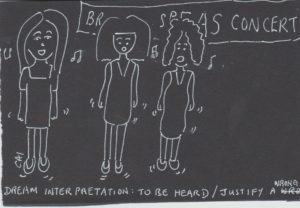 One night, I dreamed I was attending a Britney Spears concert. She was singing on stage with her back up singers. This was an unusual dream for me. I'm not a fan of Spears and neither have I attended one of her concerts. And by the way, Ms. Spears is going to sing at Las Vegas, for a long residency in 2019. Her stage residency is named Domination, because hey, she's Britney and she's going to be domineering there. If you can make it to Vegas, go see Britney Spears' Domination. I used white gel pen to draw on black paper because this was a dream and I wanted the background to be dark. I'll be using colors to fill in the spaces.
What's the meaning of this dream? To dream of concert and singers singing means your ears are going to receive good news, for singing (especially music in a concert), is usually to celebrate a good occasion. Unless, of course you hear mournful singing like singing of religious hymns at a funeral mass in church. Here is another post on the meaning of a dream about singing Christmas Carols.
To join in this fun coloring club, please visit Linda Hill's link at Escapist Coloring Club, to read on how to participate.