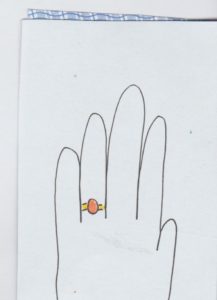 Dream analysis of the image of engagement ring means the dreamer wants security; be it emotional security or financial security. When your brain tells you that you're desiring this form of security, you might ask yourself what ails you. The next step would be to try solving the issues that plague you.
If you're married and still dreaming of an engagement ring, it means your marriage is having problems. You are regretting your engagement and marriage to this life partner. You want to get engaged again, to start all over. What can you do realistically in this situation? Try to talk to your partner on resolving these concerns. Otherwise, you both may wish to seek a professional counselor/ therapist, to iron out the issues.
PS. – Congratulations to Lady Gaga, 36, who hinted she's engaged to her fiance – Christian Carino. Gaga's engagement comes after she started dating Carino, 49, in February 2017.