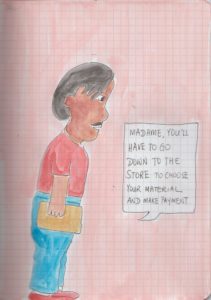 So our day dream of seeing the salesman came true. After 10 days of waiting for him to make an appointment, he finally showed up on the 11th day.
After so much fuss to get Freddy down to make this in-site measurement, he says we still need to visit his store to choose the materials and pay payment at the store. He doesn't take a check. We have zero choice but to comply.
On hindsight, I guess in this manner of conduct, Freddy lacked faith in my ability to pay for my order. He had to catch risks of debt. He controlled the condition of purchase because he couldn't burn his reputation and job.
This frame is part of a longer series in the comic about Buying Blinds.
Prompt – zero , choice, from R. Shipp; lack , manner, debt, control, burn, catch from TheDailySpur.wordpress.com,