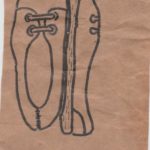 Shoes Dream
In my dream, I wore a pair of sandals to go shopping to buy a pair of shoes. I went inside a shop that sold track shoes (runners). I climbed up a short flight of stairs to the store's second level. There were display racks of white running shoes. I was trying to select a pair. The store's owner came to me and asked, "Why are you looking for shoes?"
I said, "I need a pair of shoes. Mine has spoiled."
The man didn't believe me. I had the impression that only yesterday, I was in this store, buying a pair of shoes. Today, I'm back in the same shop, buying another pair of shoes. I chose one pair of track shoes and paid for them. Then I walked home. My family were indoors. They knew I had gone shopping for shoes. My dream ended, just like that, when my mission was accomplished. I woke up from this dream.
Meaning of Shoes Dream
The latent meaning of dreaming of buying shoes means I'm preparing to walk a lot. The dream said I had already bought one pair of shoes the day before, and yet I'm back at the store, buying another pair. The message said I was storing shoes because I foresaw a hard time ahead.
Dream Interpretation Shoes
In my dream, I returned home to my family, so I would not be running away from them. I was storing shoes for my use in the near future.
Dreaming of shoes could mean the foreshadowing of a long journey ahead of me.