Dreaming of my pet:
My pet's POV (point-of-view) is a very limited one. My pet is a terrapin, which is small. It is as big as the size of my palm. Its size is very small relative to my human size. When it looks at me, it is seeing a giant.
One night, I had a strange dream about my pet terrapin. I saw that it detached itself from its shell. Its not natural that a reptile detaches itself from its shell as this type of animal grows its shell outwards and does not discard its entire shell. This dream may be a warning of a threat which may upset the natural order of things.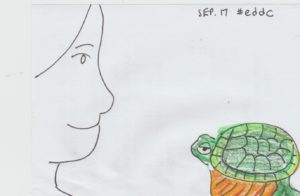 September 17 #eddc #everydaydrawingchallenge.