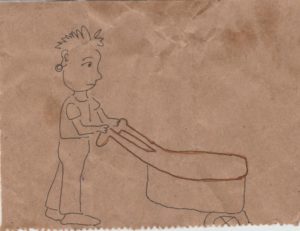 In some cultures, the people hold no reservations about what they discuss. One day, my supervisor in a teaching facility, spoke about The Wheel Barrow. She was on her morning tea break and her chit chat was her way of networking with her staff. To disarm them with frankness. I was not taken in because I knew her intentions.
I was reminded of this incident when I encountered the barrow in:
SBS's #SBSadrawingaday August 26 2019 prompt.
Dream of wheel barrow
On the prim and proper perspective, this dream symbol usually means you are going to do some gardening work. You need the barrow to carry some heavy soil or other resource.
Dreaming of the wheel barrow can also mean renovation work. Contractors and interior decoration workmen use the wheel barrow indoors, to carry sand, cement or other materials.