This collection of December art prompts are specially named #decemberartprompt2020 from @Designs_Cadpro
I wish I could do all of them. Maybe one day soon.
Anyone cared to do December 2020 Art Prompt! Just either make a video of post to Facebook or Instagram with #decemberartprompt2020 to ring out this year of misery with joy! pic.twitter.com/s9Ewiyxrev

— Timothy McDougald (@Designs_Cadpro) November 19, 2020
@goodly_draws Drawcember 2020
Starting a new drawing a day prompt I made up.

Drawcember 2020 Day 1: Pole#pole #christmas #northpole #penguin #snow #scarf #penandink #digitalcoloring #winter #december pic.twitter.com/ulxdyggLzt

— Goodly Draws (@goodly_draws) December 1, 2020
@LemonSnowArt
drawcember day 2: ornament!
·
·
·#lemonsnowartdrawcember2020 #drawcember2020 #december #art #doodle #drawing #sketch #traditionalart #ornament #day2 #Cyclops #oc #originalart #originalcharacter #artist #artwork #ArtistOnTwitter #artistsontwitter #green #pen #pendrawing #winter pic.twitter.com/5HDyan7WKN

— Lemon // BLM !! (@LemonSnowArt) December 2, 2020
#DoodlewashDecember2020 link.
JOIN US FOR OUR DECEMBER 2020 ART CHALLENGE – "Merry And Bright!"-This challenge is open to watercolor painting and/or drawing (ink, colored pencils, crayons, etc) as well! Add the hashtag #doodlewashDecember2020 when you post your art! Click for prompts: https://t.co/CqOgNgdfq9

— Doodlewash (@doodlewash) November 27, 2020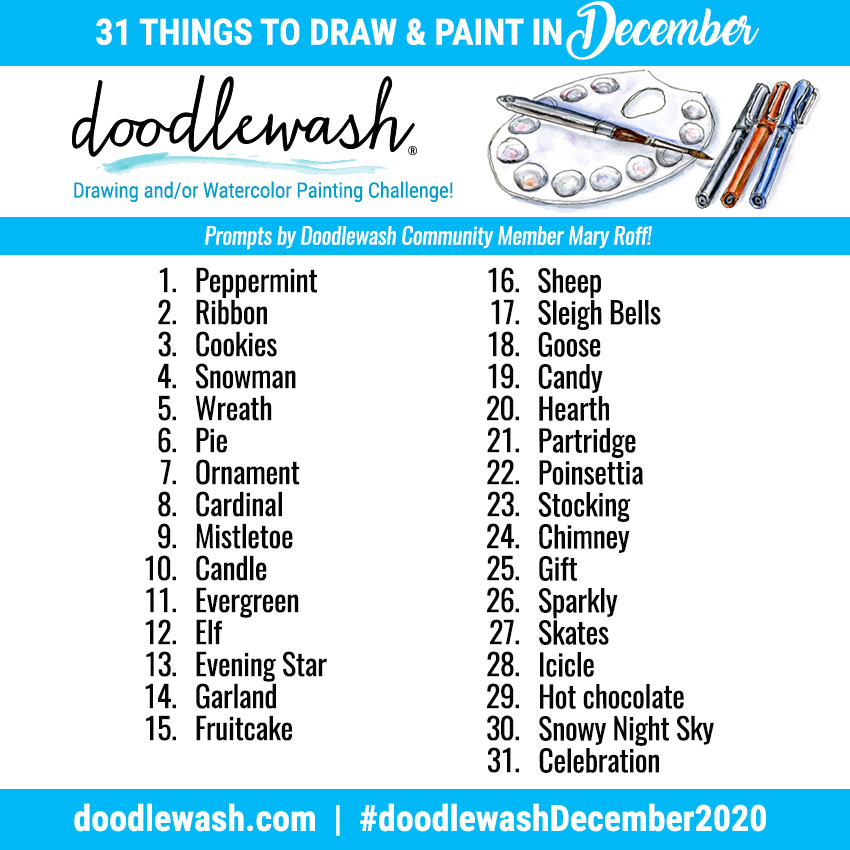 General info!

?prompt: cozy, festive or ugly sweaters + holiday vibes~
?posting time: Dec. 20-26!
?art, edits, written pieces, actual sweaters..? Anything creative!
?post entries to #.HoliSTAYwithSKZ on the specified time and we will rt it!

Have a holly jolly time♥️

— STAY ART CENTER ? (@STAYTISTSCREATE) December 4, 2020
Han Solo and Princess Leia art prompt for Dec. 2020
hanleiachallenge: The HanLeia Challenge prompt for December 2020 is "HOLIDAY"! You can create whatever type of media you'd like to based on this prompt–fic, poems, videos, edits, metas, gifs, art, music, whatever you're inspired to make! You… https://t.co/mX0vjkM0gZ

— Han & Leia (@leiahansolo) December 1, 2020
Submissions are open! The theme is 'Proximity' ? Looking for translations, poetry, prose, essays, photography, art – whatever you've got! Link in bio for submission guidelines and prompts.

DEADLINE: SUNDAY 20th December 2020 pic.twitter.com/1AuLfKlEbI

— Subtext (@subtextucl) November 3, 2020