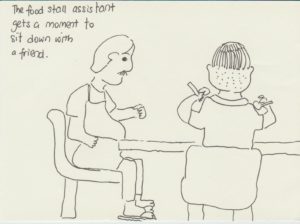 The food seller's occupation is tough work. He stands on his feet when there are customers. After the buyers have finished with their meals, he has to wash the dishes and utensils.
Mindful Doodles is a series of comic/ cartoon drawn on assimilating stimuli that comes into my mind. My surrounding and environment are dynamic. As events happen, the stimuli enters my brain and I pay attention to them. I am not mentally disturbed  as I pay due respect to each stimulus. I ponder upon how I would deal with the stimulus, to manage the situation.  I try to discover what lesson the Universe bestows on me in this encounter.
This is a  series of drawings to show insights into the life style of various people from all walks of life.  Each frame is something for you to see and ponder over.
Mindful Thought of the Day:
Be thankful for the small pockets of time in the day when you can rest.