Prayer Meditation is the second in my series on Meditation #. I used the Roman Catholic rosary. You can use any object, like a religious artifact, to concentrate for this type of meditation. If you belong to a religion that bans prayerful meditation, then you can use a non-religious object and do a non-religious (secular) meditation.
How Prayer Meditation helps you:
Step 1) Go to a quiet place to sit down and concentrate.
Step 2) Hold or place your religious object nearby. Focus on the mysteries in the doctrine. I pray the rosary so I focus on each Mystery of each set of beads. As I say my prayers, I am often distracted by thoughts of trivial problems in my life. I look at my rosary and prayer booklet to re-focus and continue my prayerful meditation. I think about each Mystery and what life must have been for the people way back when Jesus Christ lived.
Step 3) Sometimes, I take a long time because my mind wanders away from meditating on the religious Mysteries. I can't help but think about how I can apply the principles in my everyday life. I try to say my prayers aloud to concentrate more. As I say each word, I think about the meanings, what the Mystery imparts to me and how I can live my life. My problems won't go away, but at least I have considered how to respond to handle them.
Step 4) After 1 1/2 hours, I finish one round of prayerful meditation of the rosary. It is a very long time but during this stretch, I had thought about my issues. By this time, I have brainstormed in my mind, solutions to solve my problems. For the troubles which are out of my control, I have released them from my mind. I let the troubled thoughts go.
I made time available by waking up early in the morning. You don't need to spend so much time on prayerful meditation. Set aside a short period that you're comfortable with, and start with that.
If you try this Prayerful Meditation, please drop a comment to share your experience.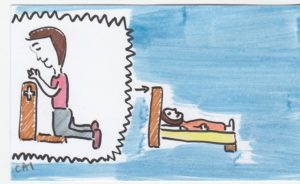 Writing prompt – laying hands for prayer.