Original art for sale. Hand painted. USD 10 per piece, includes international shipping. Only one piece of each design. First come, first served. Please comment below to buy.
Some pieces were sold at a local exhibition in Dec. 2020. I submitted 10 miniatures and 9 out of those 10 were sold. I'm so grateful to God. What started as a sacrifice task volunteering time at the psychiatric ward drawing for children, became a real hobby.
10% of proceeds will be donated to a charity.
In Dec. 2022, 11 pieces were sold.
Method:
I colored it with oil pastels, and outlined with black marker pen. I colored the background. Then applied the paper batik method. This means to crush the paper, uncrush it, and apply a layer of watercolor of your choice on the paper. Place this art paper on a double folded sheet of newspaper or other absorbent paper. Place another double folded newspaper or absorbent paper on top of the wet art paper. Iron this slowly and moving the iron over the stack of papers. Lift the top layer of paper to check on the condition of the art paper. When it appears dry, your ironing is done.
The last step was pasting the main picture onto a bigger card. This allows the effect of a border, which was then painted in a contrasting color, pink.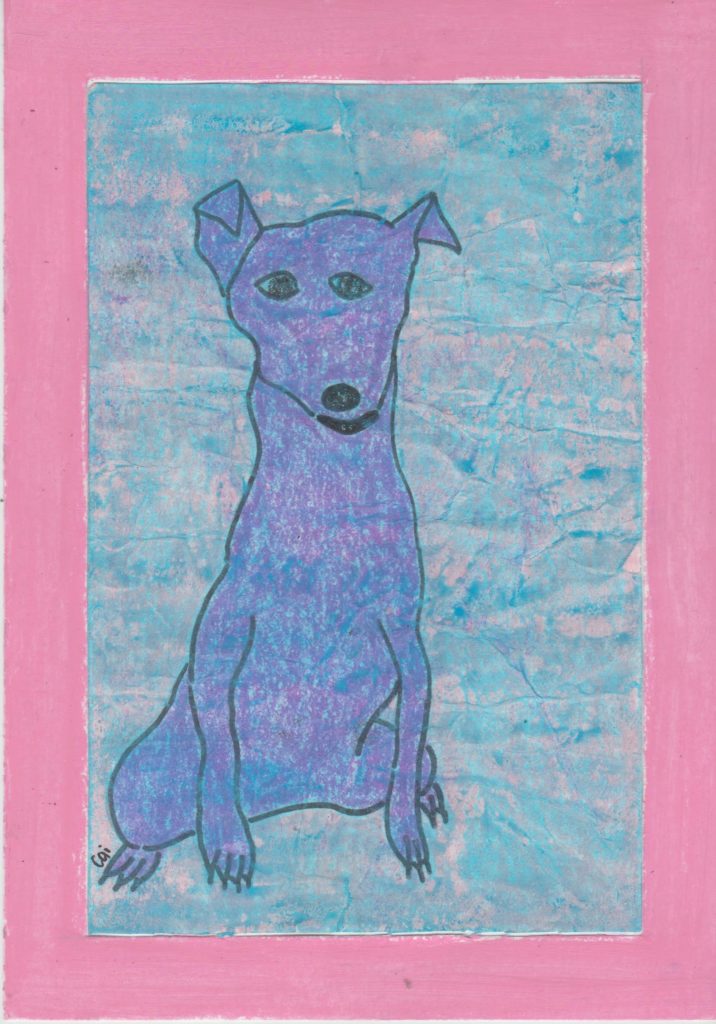 *
Cat with print against background created also with print. 5.9 inch by 4 inch postcard.
How To Make Print on Print Collage.
Method:
Collage of print on print. I used a slice of cut vegetable to stamp this print on squared paper. On hindsight, I should have drawn the cat before stamping. Anyway, I mistakenly thought I could use the hand made pattern of stamping for the skin texture of the cat. Then I chose the lightest patch of stamping area to draw the cat's face. The darker prints would make up the body of the cat. I love vegetable stamping. The natural print is beautiful. The green stamping was made by using a piece of kitchen dishwashing fiber wool.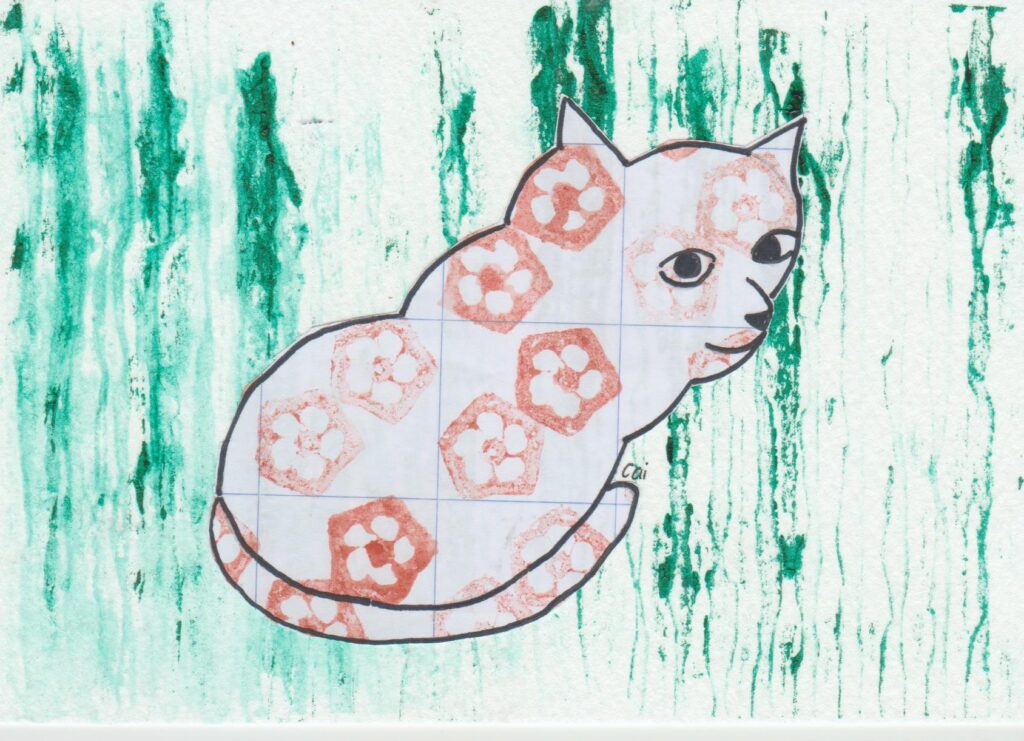 This is a profile portrait of a dog begging for morsels of food. I love the woeful, pleading expression that it uses to con the human. Please toss him a morsel of food! This art was done as a collage. After the dog was cut out, it was pasted on a prepared background. The stamping print was made with plastic packing material which is a netting used to protect fruit.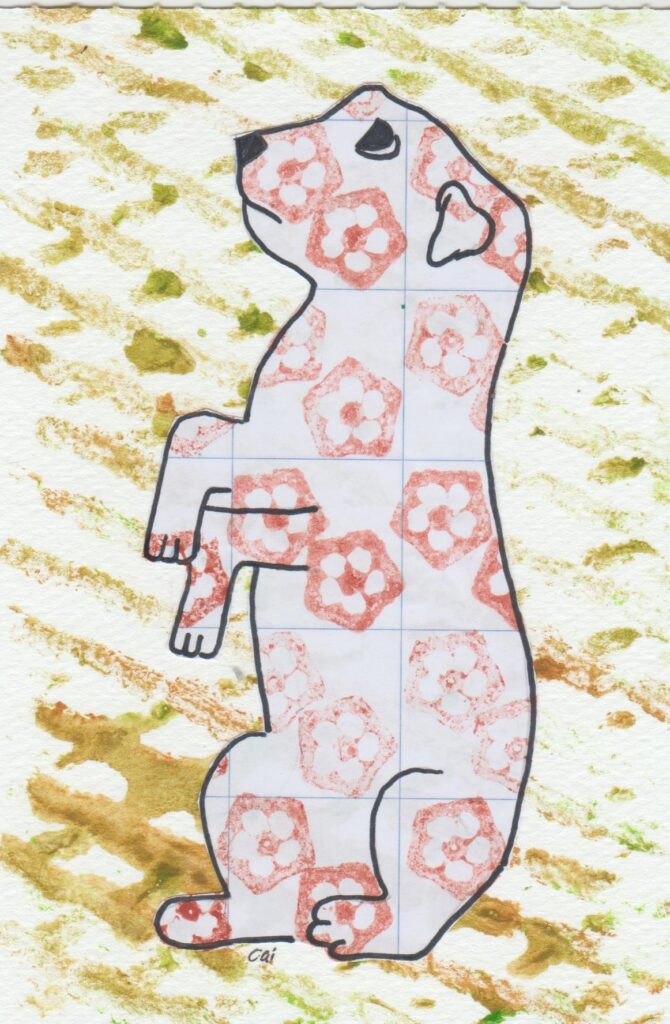 Hand made original art of 4 terrapins. Measures 8.3 inch by 5.8 inch (A5 size). Medium are water color, & oil pastel.
How To Make Terrapin Prints
This unique print serves well as the shell of tortoise/ turtle/ terrapin. The stamp was made from sliced lotus root. This root has natural tunnels of holes. After stamping to make the shells of the turtles, I drew and used oilpastels to color in heads, tails, and four limbs of the reptiles. Lastly, water color was added to create water for the amphibians.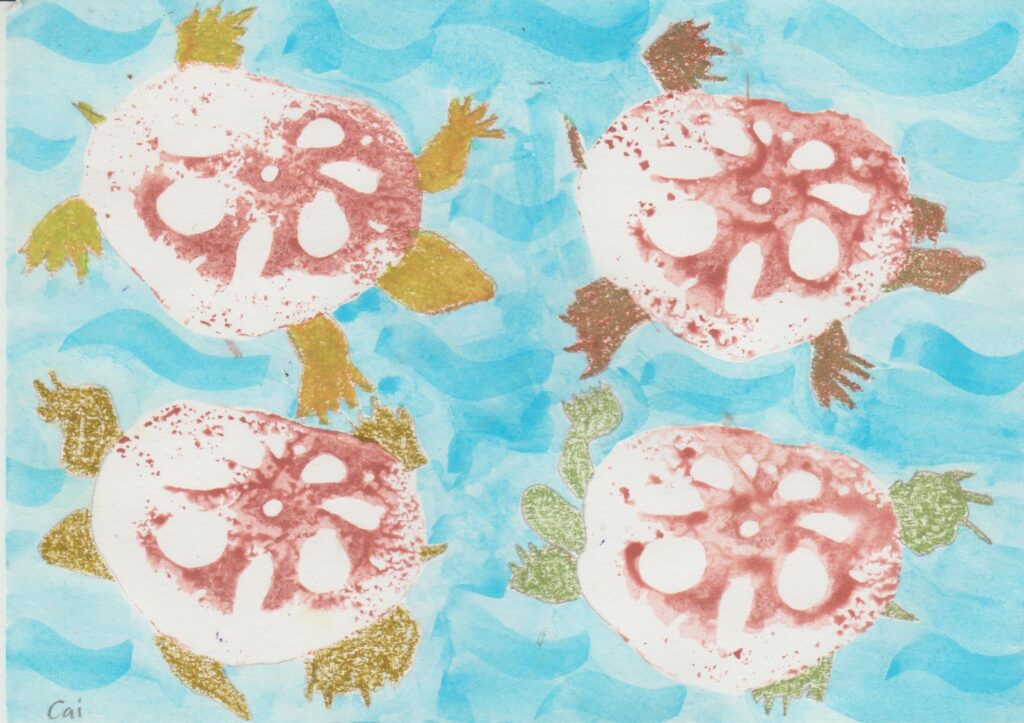 Original hand drawn dog. 4.8 inch by 7 inch tall. Dog in color pencils, against water color background.
How To Make Pixelated Dog Art
My version of a pixelated dog. I used the repeating pattern of two shades of pink and 1 light blue. I drew this dog using straight lines to present a rigid look. The background was painted in a monochrome to avoid distracting from the main theme of being a colorful pixelated dog.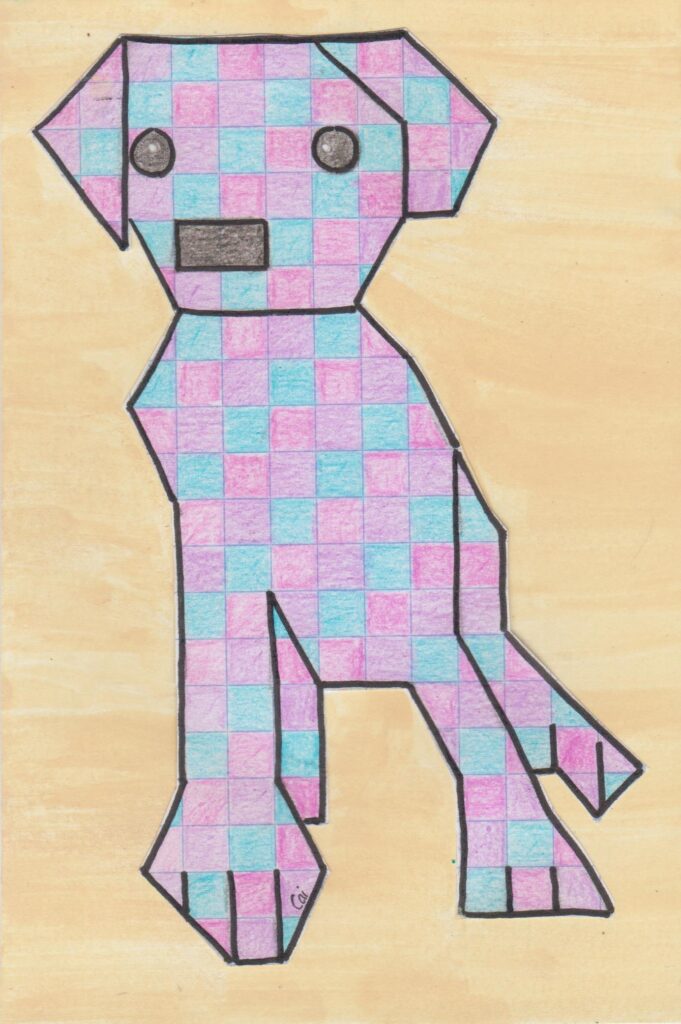 Original art 5.8 inch by 4 inch. Watercolor cat plays with a bit of pink wool.
The background is double stamped, because the plastic netting did not retain enough watercolor to make a visible print. I tried to press the plastic down but this act created a smudge. The cat's head was made by a single splatter of watercolor blob that fell from a straw. Then its body was painted using the same watercolor. I glued on a bit of yarn for the cat to play with.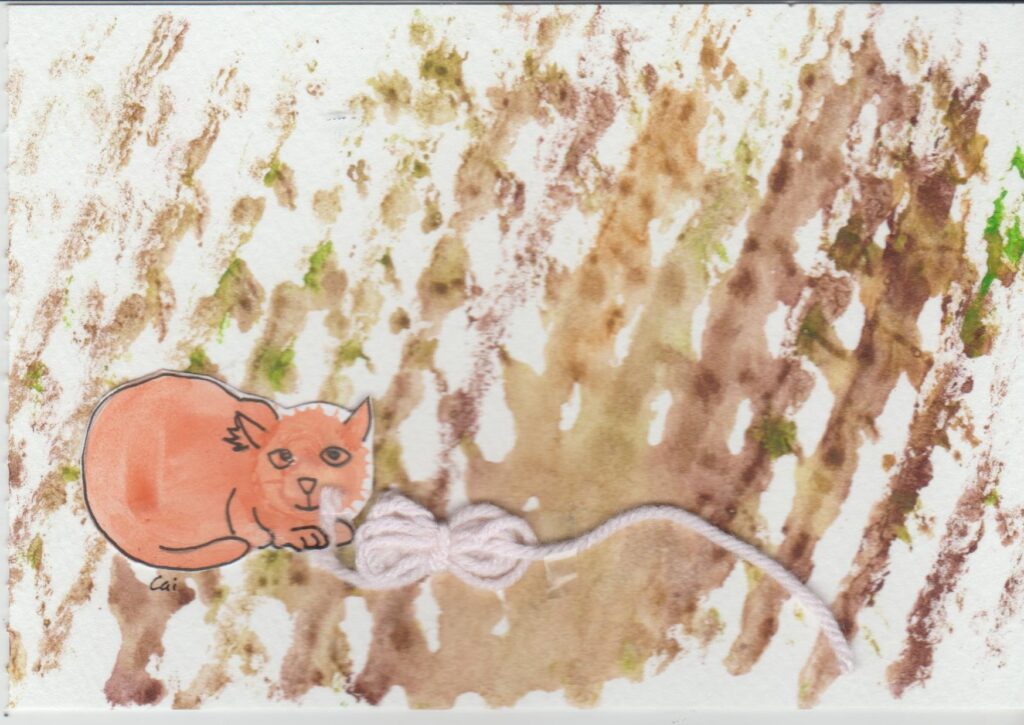 How To Make Headless Camel Rider
Why the camel origami? Because I could make it after modifying the basic structure which used the crane folding method. I cut a vertical slit in each wing of the former crane, This allowed the formation of 4 legs for the camel. The camel's hump used the natural "spine" of the crane. The head of the crane became the camel's head. The crane's tail was folded down to make the camel's tail. Its really hot in the desert, where this camel walks. So the background was painted with warm colors. Each layer was blended down to its subsequent layer.
The rider is composed of two pieces of origami. The basic fold is from making the leaping frog. Both upper body and lower body are made from the same fold structure, and then specializing them to form the upper body and lower body respectively. You can draw a head from a small scrap of paper, cut it and then paste it on this collage. SOLD.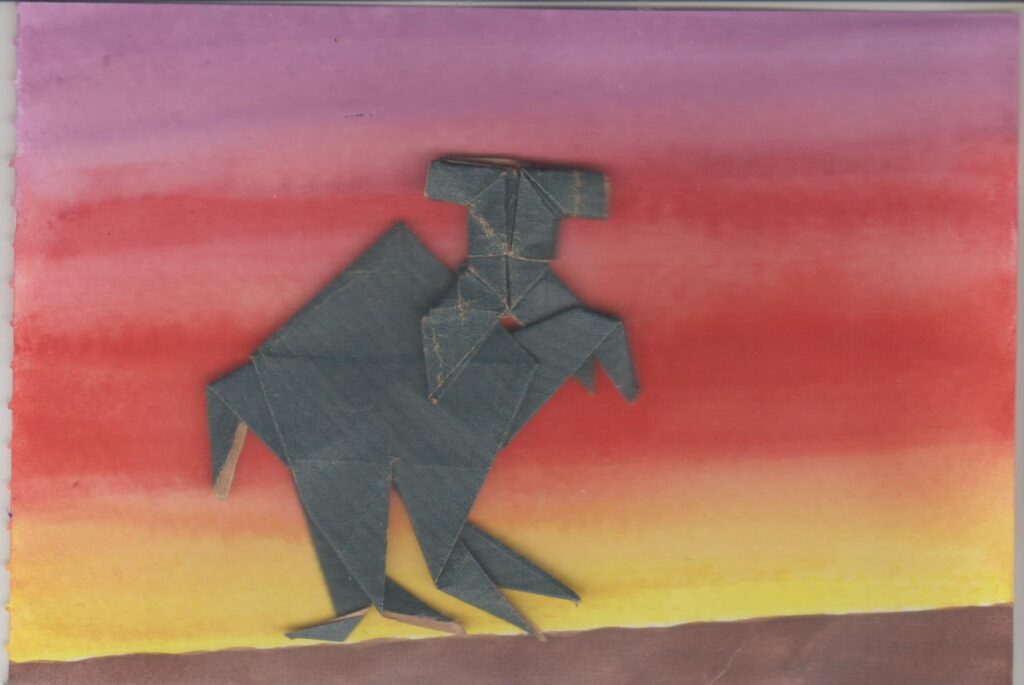 *
This is what I mean by drawing a head and pasting it on. This head was created by siphoning a drop of colored ink/ water color, into a straw. Place your index finger over the top of the straw to prevent the ink drop from falling down the straw at the other end. When you're ready to drop that ink, release your index finger from the top of the straw. Watch how the ink droplet splashes down on your paper. Cut out the shape of this ink blot but allow more space around the blot. This space accommodates for you to draw in hair.
This is a collage of a woman made with origami. Her choice of transport is a kitty, made from cloth. She gallops across a landscape composed of water color. SOLD.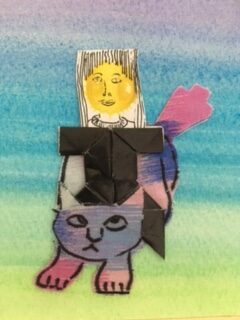 How To Make Pretty Cats From Fabrics
I bought a bundle of fabric scraps which were cut as quilt squares. The cloths were pretty; woven with some glittery threads. I wanted to maximise the use of each square, so I drew the biggest cat that the square could accommodate. The fabric prints were beautiful and I wanted to capture their glory in art, before they would be used up and forgotten.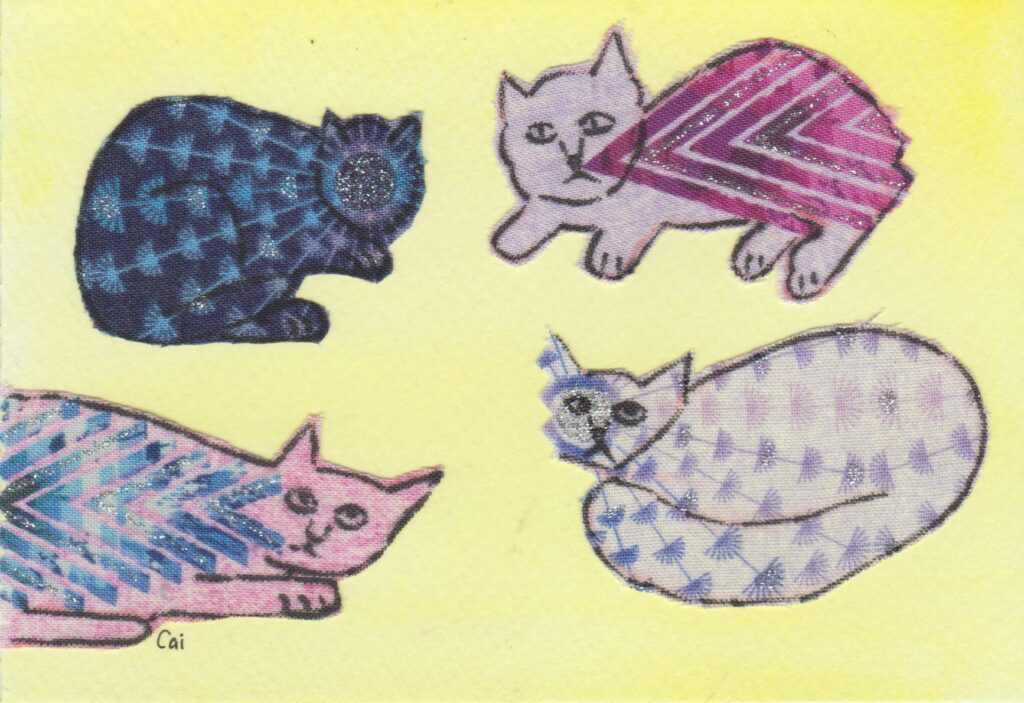 Here are more cats from the fabric quilt squares bundles. I arranged the drawing of each cat to take advantage of the square's print. They become fantasy cats with surreal body patterns.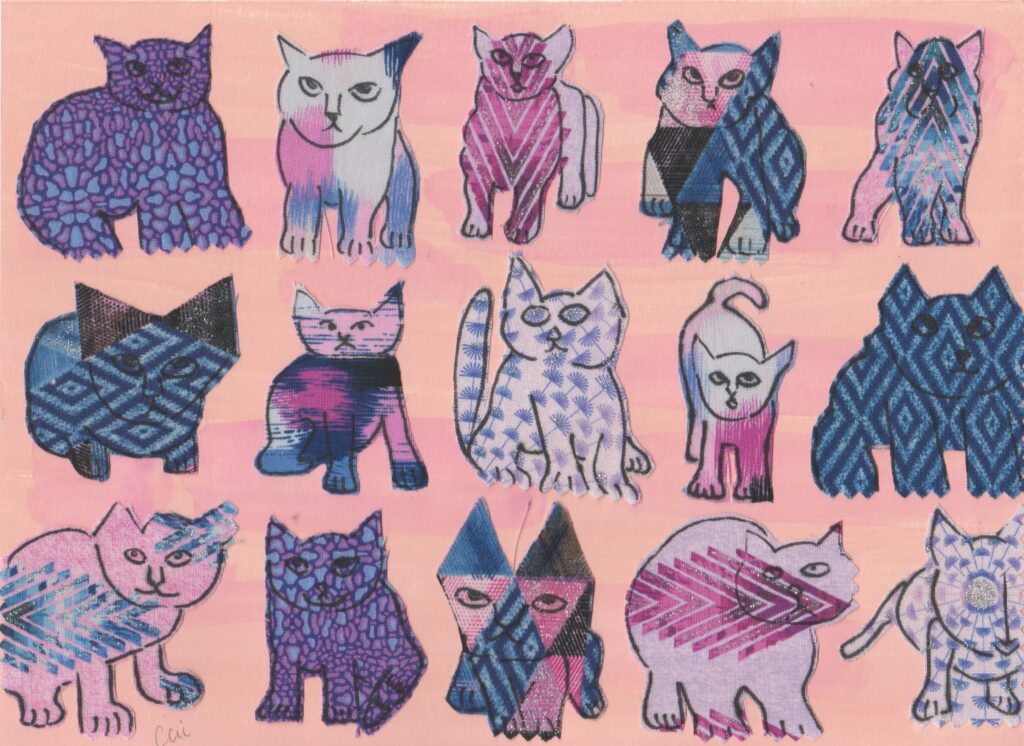 *
How To Make Background Print
I used a couple of wood clothes pegs. I painted along the flat surface of a peg and stamped this on the card paper. I added more paint on the peg and stamped it close to the first stamp.
Female tennis player with a cat face. Fantasy creature inspire by Serena Williams, in acrylic paint. Background done by stamping art. Does not include wood frame that props up display. Art is postcard size.
*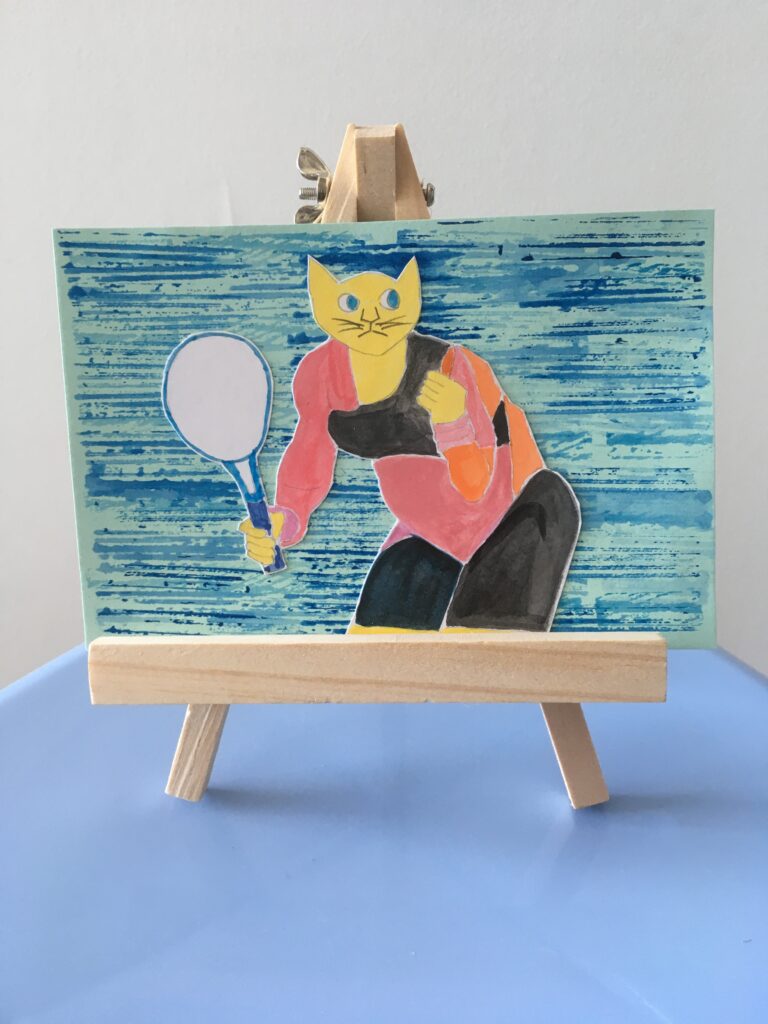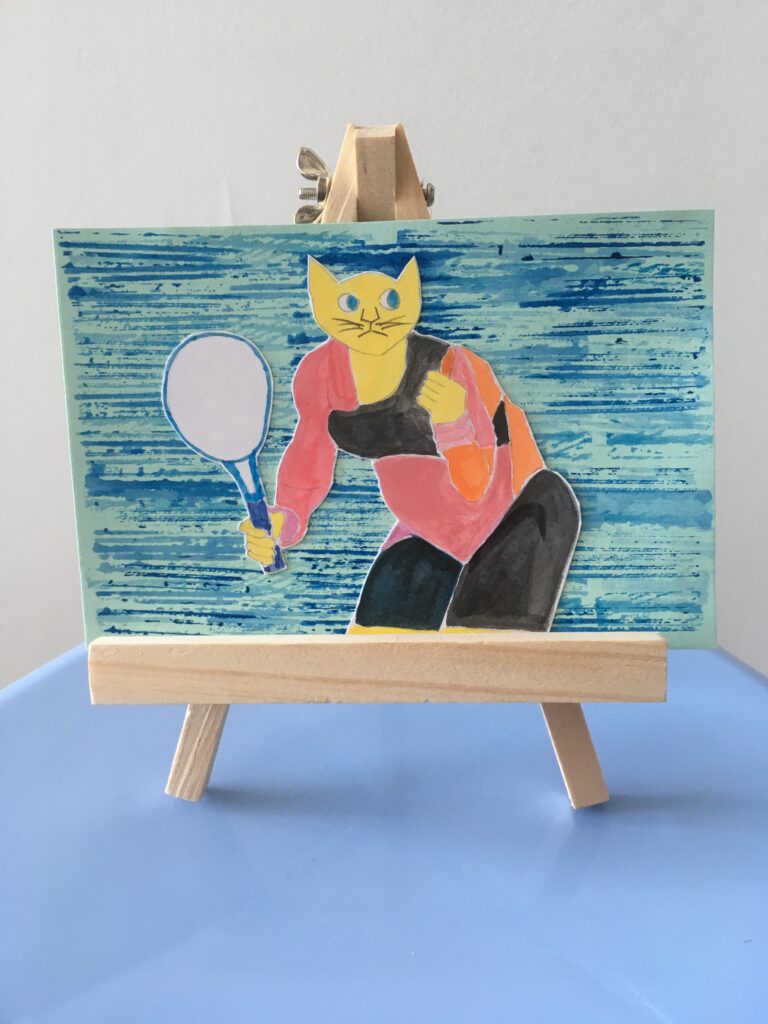 SOLD
*
How To Make Your Art Interesting:
You can try to use mixed media. Vary the use of media for different components of your picture.
Mixed media art. Female anthropomorphism character painted in water color. It is then cut out, then glued onto a background painted in acrylic. The background is made by dabbing different acrylic colors of the left column of the card. Apply dabs of acrylic paint in a vertical column, from top to bottom. Use a paint brush to spread these globs of paint, with strokes from left to right, until the end of the card is reached.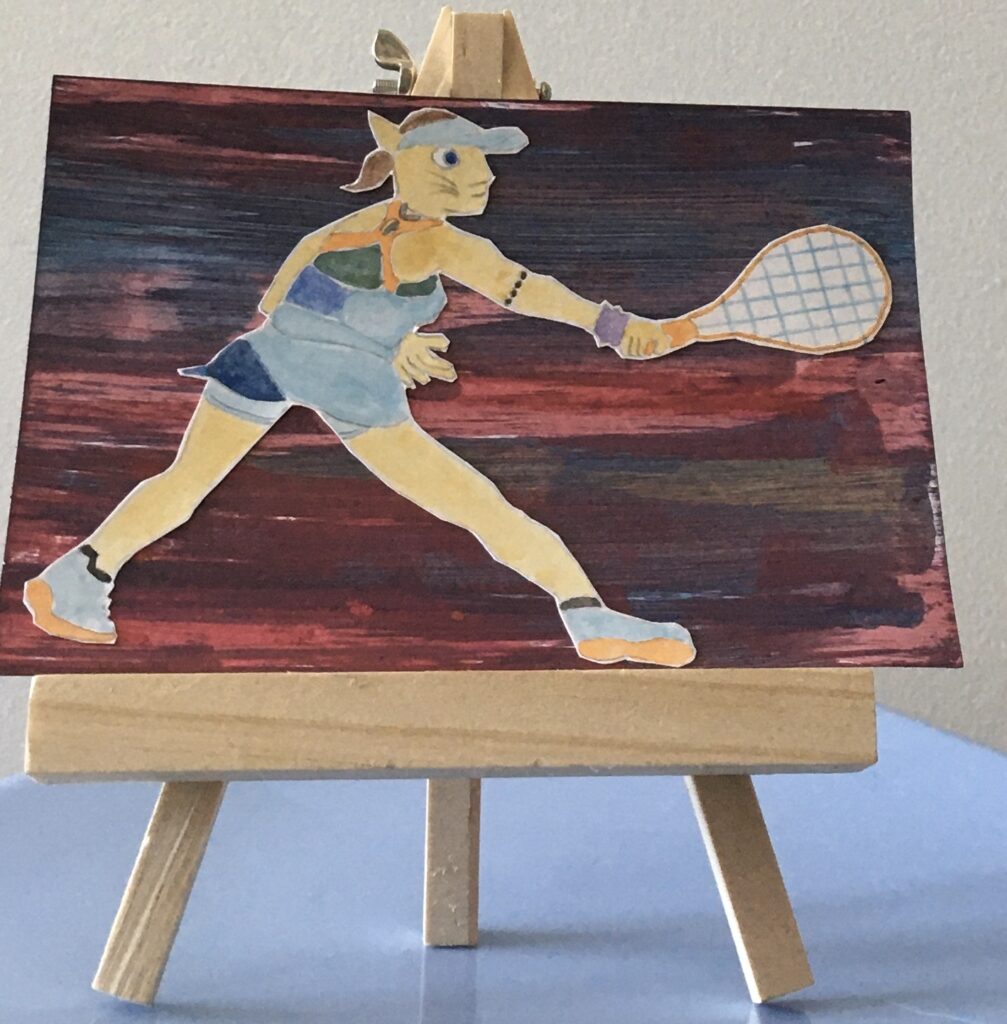 *
Water color female tennis player collage glued on watercolor stamped painted background. The stamping was done by painting wooden clothes pegs and stamping it in a dense pattern, on green card paper. The metal clip component of the clothes peg did not allow paint to stick, hence it made the blank lines. This collage makes the player stand out a bit, and creates an extra dimensional effect.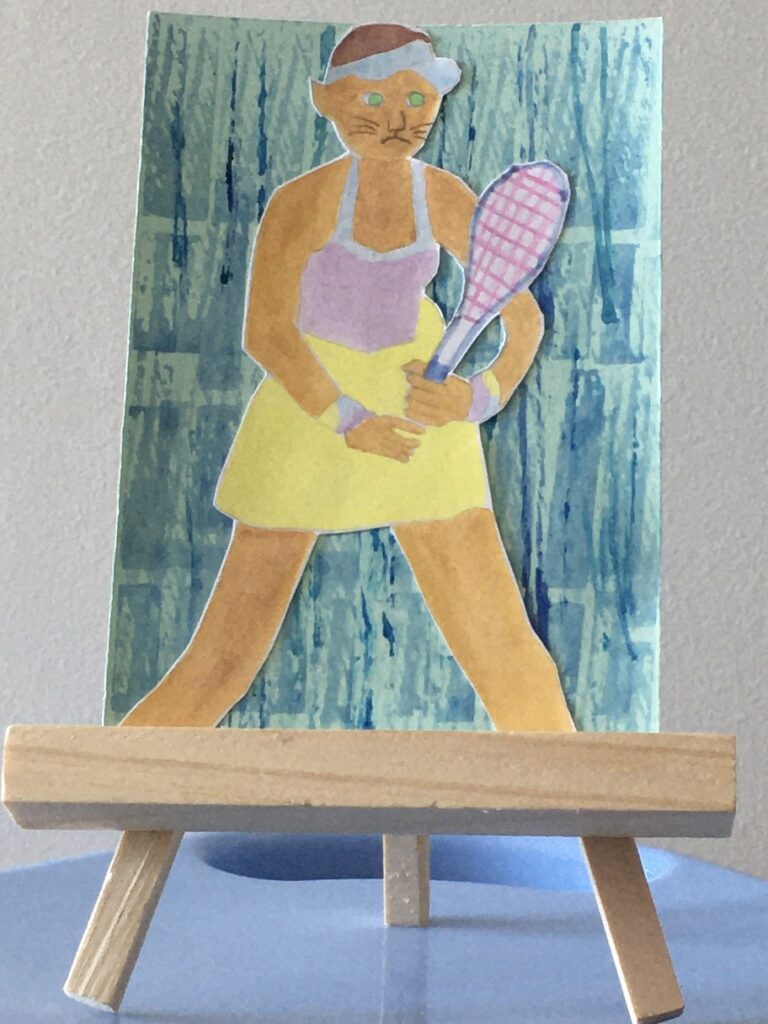 A female tennis player drawn as an anthropomorphic character, with a ball boy stationed behind her. Both tennis player and ball boy were painted, cut out and then pasted on this background card. This created the slight projection seen. I like this effect.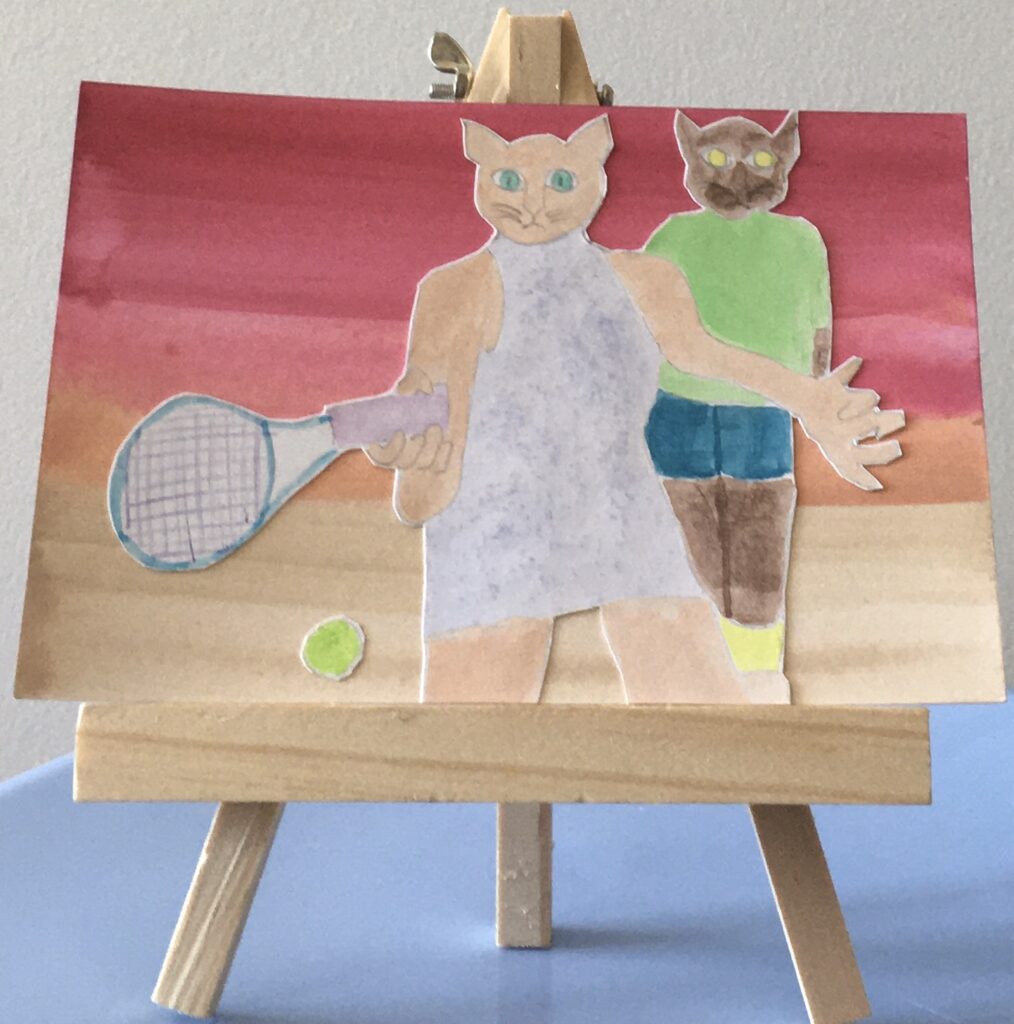 *
Female tennis player on acrylic background. The vibrant colors of the background are meant to inject life by replacing the usual monotony of tennis courts.
*
Female tennis player.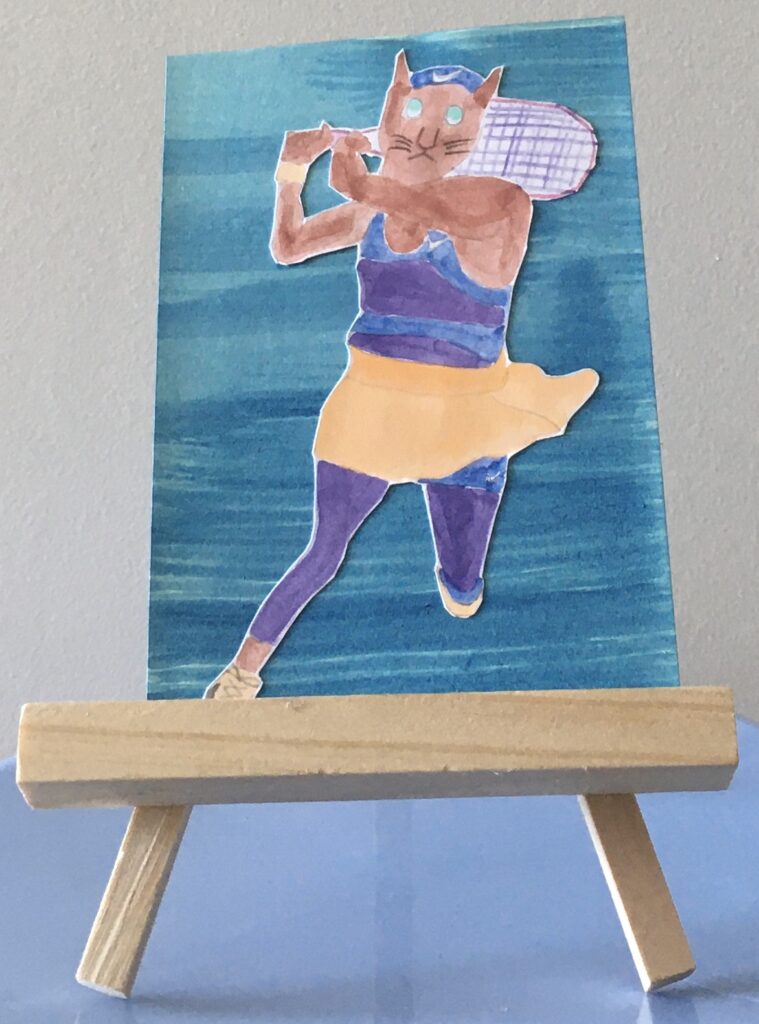 *
A male tennis player against a background of acrylic stamped dots. Athletic poses look like dance poses too. Sports people move with such agility and grace.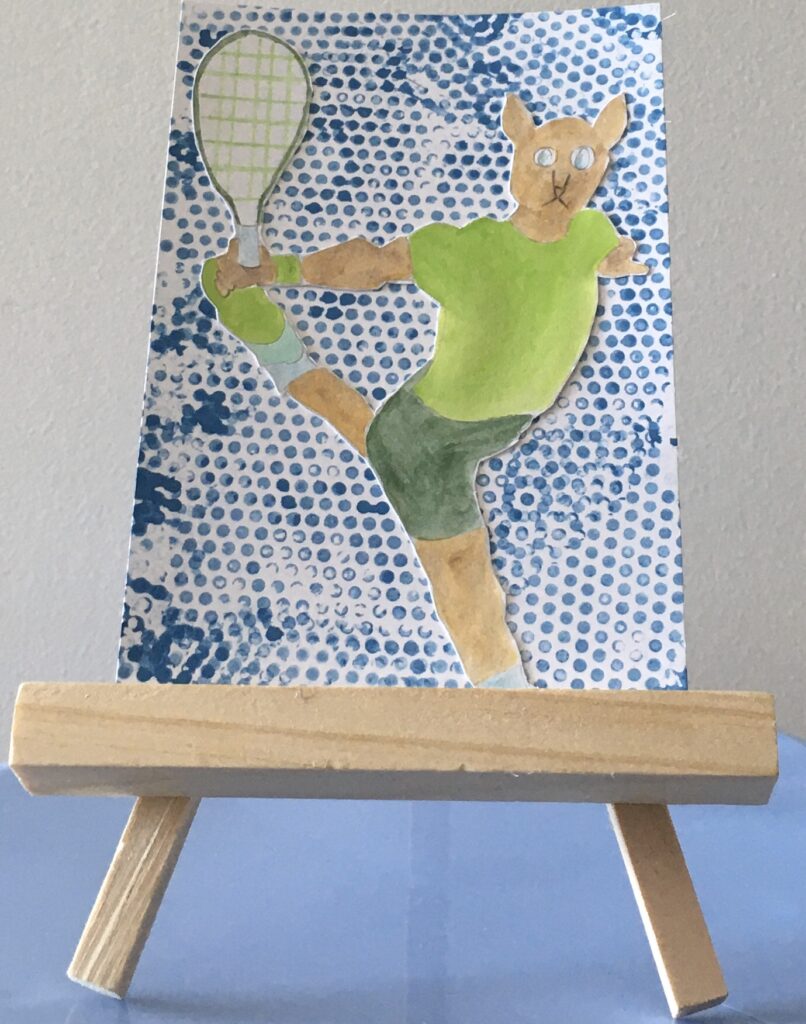 *
Male tennis player painted and cut out. It was then pasted on a card with a back drop of acrylic stamped art and large purple "rain drops". The paper confetti was purchased from budget store Daiso.
Rubber coasters and other kitchen ware with patterned surfaces can double up as stamping surfaces to create artistic backgrounds. If the background isn't jazzy enough for you, add paper confetti, glitter, and etc.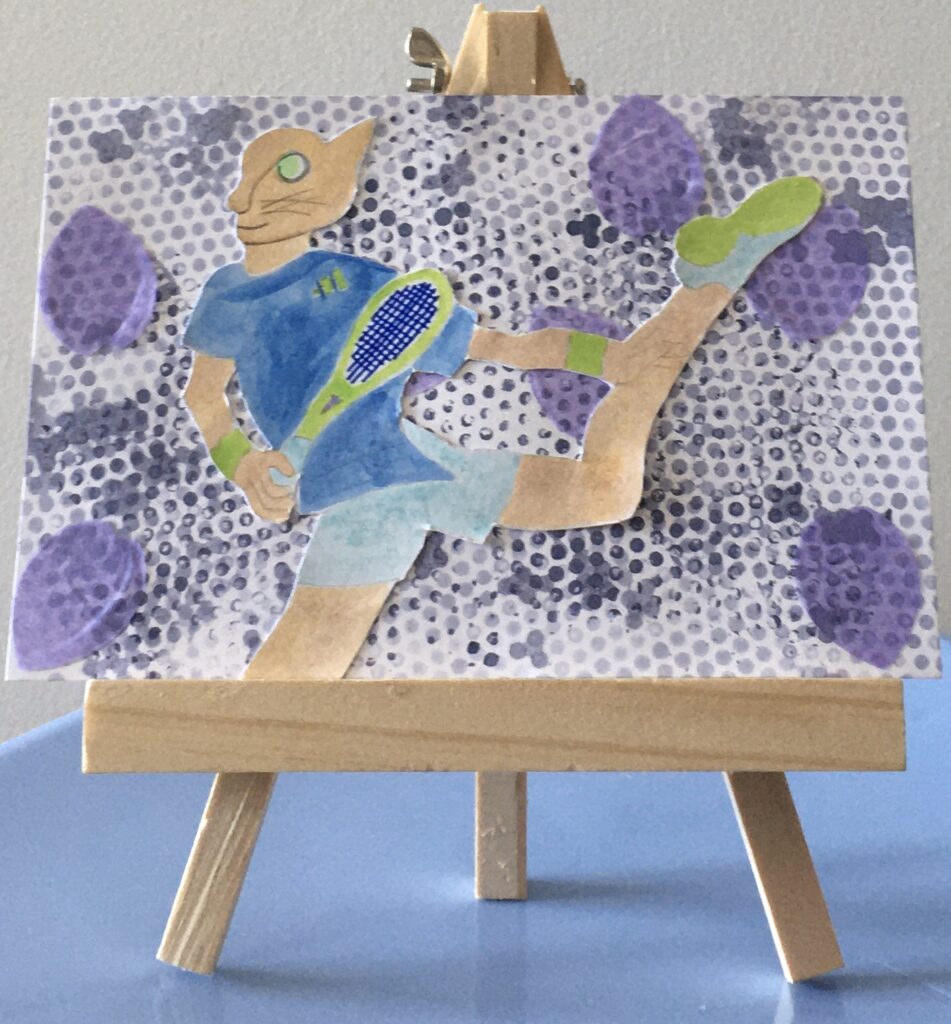 *
Male tennis player.
*
How to Make Shades of purple
Two women painted in monochrome purple. Various amounts of water is added to the basic purple paint, to make the shades. When we squeeze purple paint out of its tube, it emits as its original. dark purple. So we paint in the parts that require dark purple. Later, we paint the lighter shades of purple, by adding in water. SOLD.
.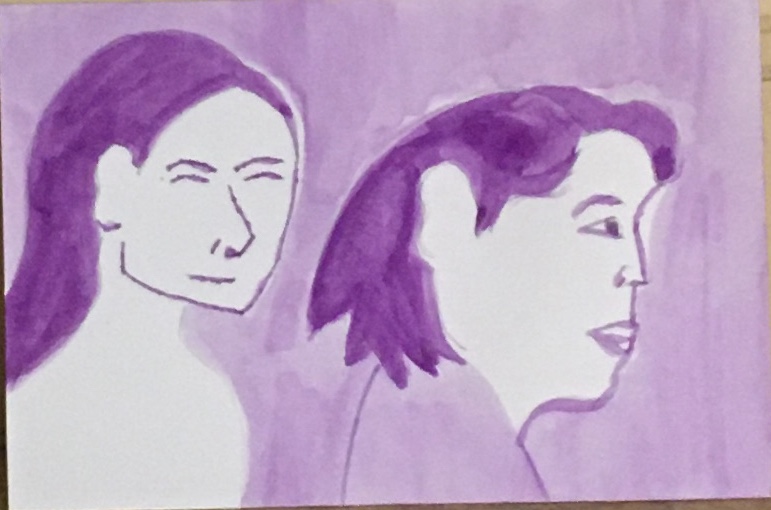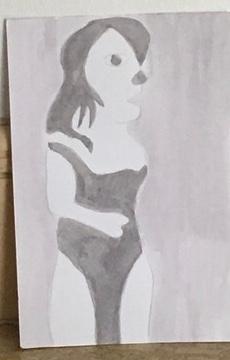 Does your cat fetch your newspaper for you? A watercolor on postcard. SOLD.
I've read that cats can be trained to perform chores.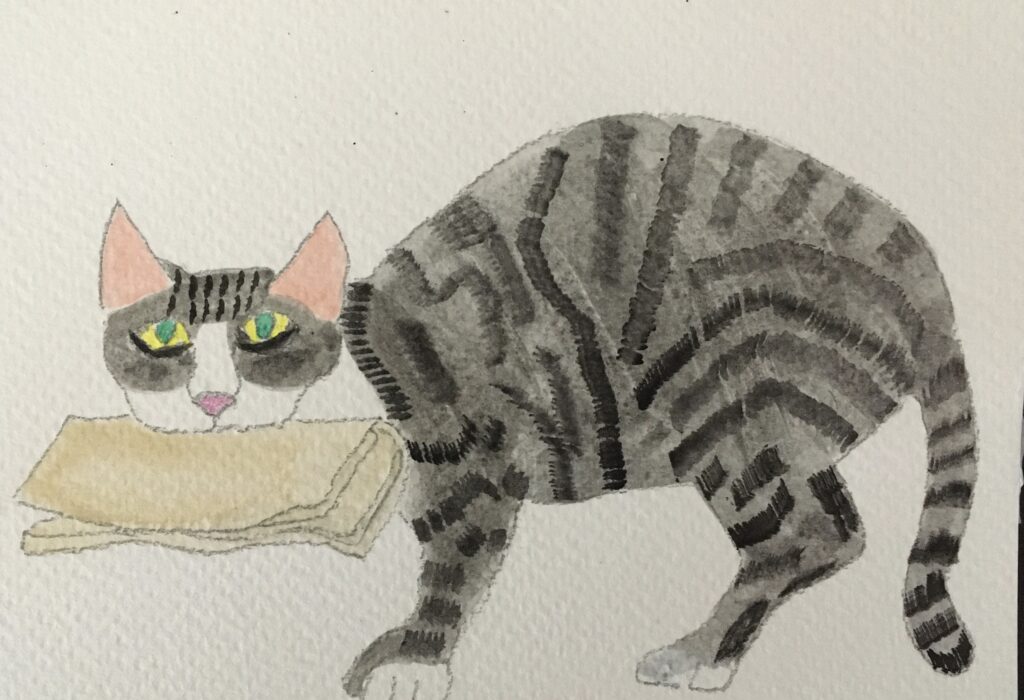 The Sphynx is a species of cat that has no fur. As such, its bare skin displays its wrinkles. Acrylic paint was applied by dabbing using finger tips.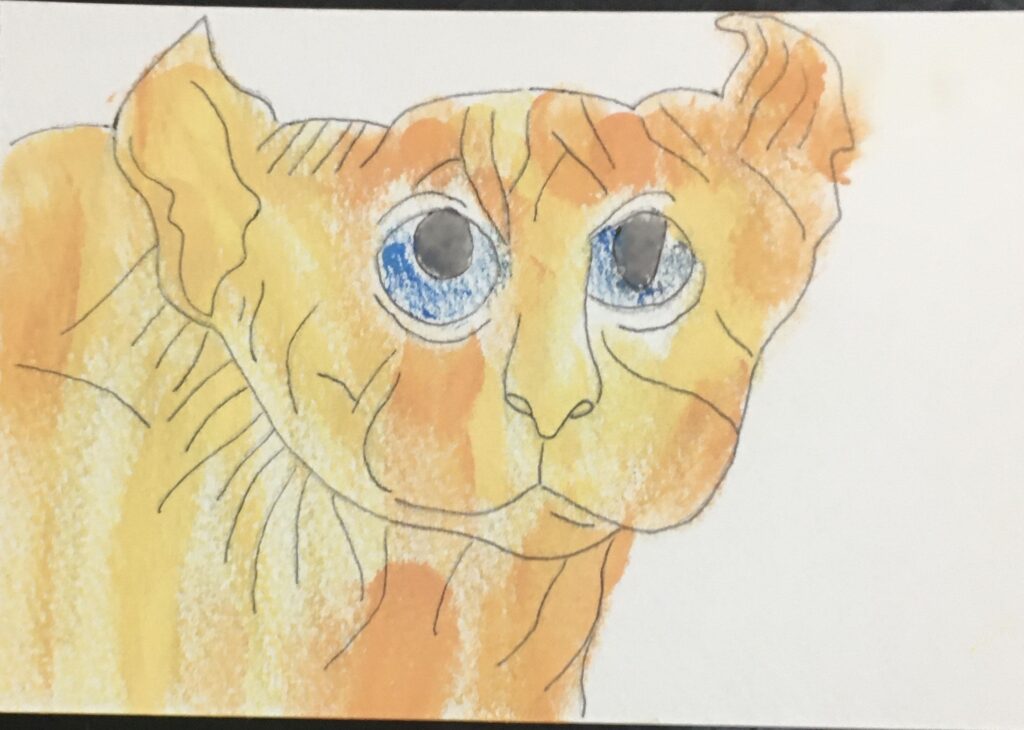 Two cats cut from fabric, collages on a watercolor stamped background. The stamped pattern was indistinct. It was a vegetable stamp.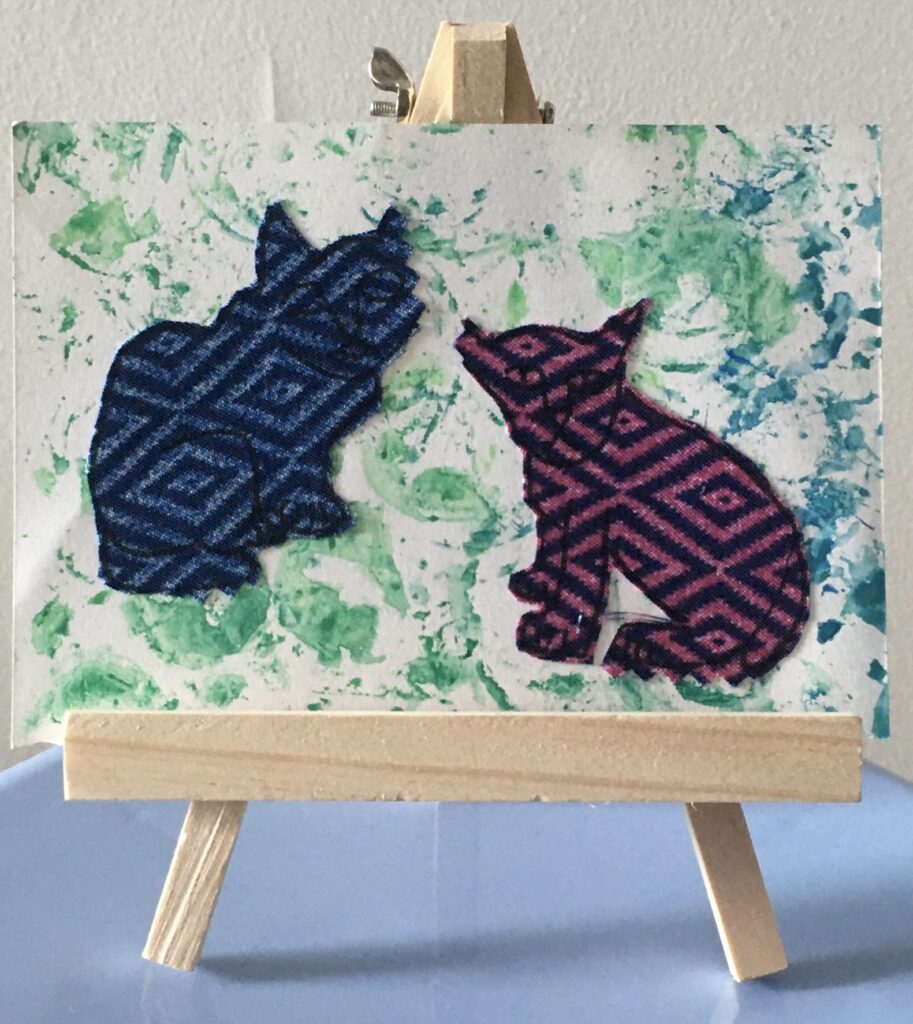 *
Handsewn cat using two bits of scrap fabric. This cat was placed against the back drop of a blank card to show its relative size.
How to hand make small soft toy cat with ordinary materials found around your house.
Everyone should be able to find small scraps of fabric, or old cloth that you can cut out to make this small soft toy. Get your sewing needle and threads. You can use threads of any colors.
Method:
Take a piece of fabric. Fold into half. Draw a cat of your choice and style. Use pins to secure this double folded fabric. Cut along drawn outline. Use black thread to sew eyes, nose and mouth for the kitty's face. Double stitch along the edges. Leave a gap to permit stuffing to be inserted into the cat. If you have a sewing machine, use it instead of relying on hand stitches.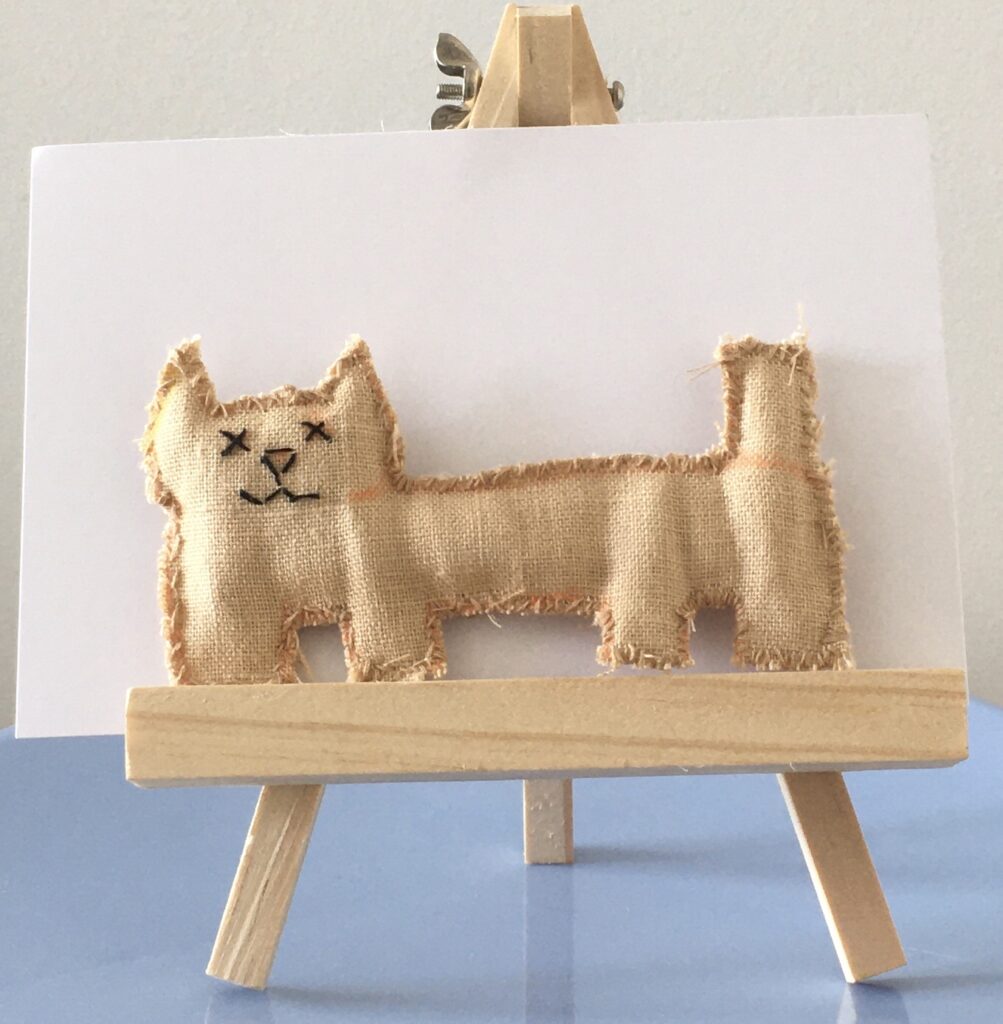 *
A cat sewn with two scraps of fabric. This style shows the feline's back silhouette. This style contrasts with the previous one, which shows all four legs of the feline.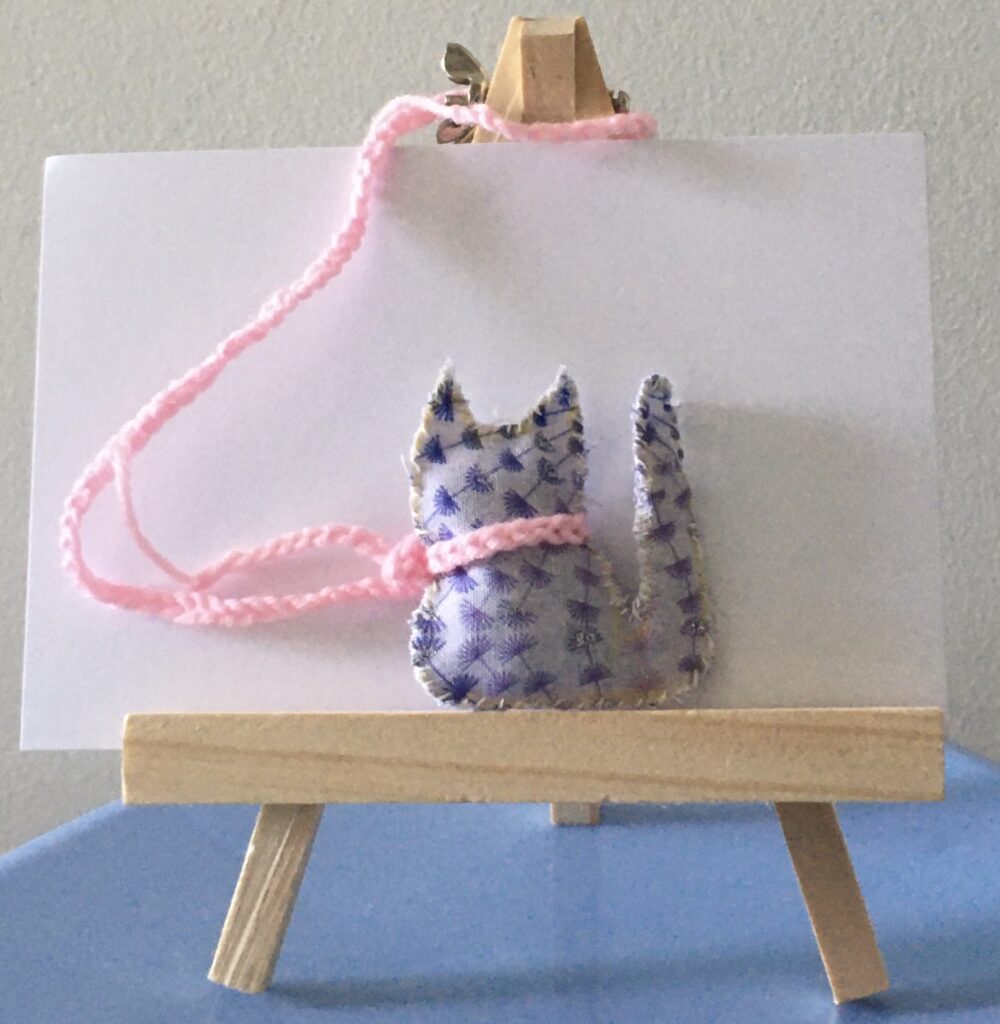 How To Sew Outline of a Cat
Draw the outline of a small cat using dressmaking chalk, or water color pencil. These can be erased off by wiping with a damp cloth.
A stitched cat with button eyes. This scrap of cloth is then pasted on an attractive background. You can choose your thread according to your fabric's color. Generally white thread can be used for cloths of a single color.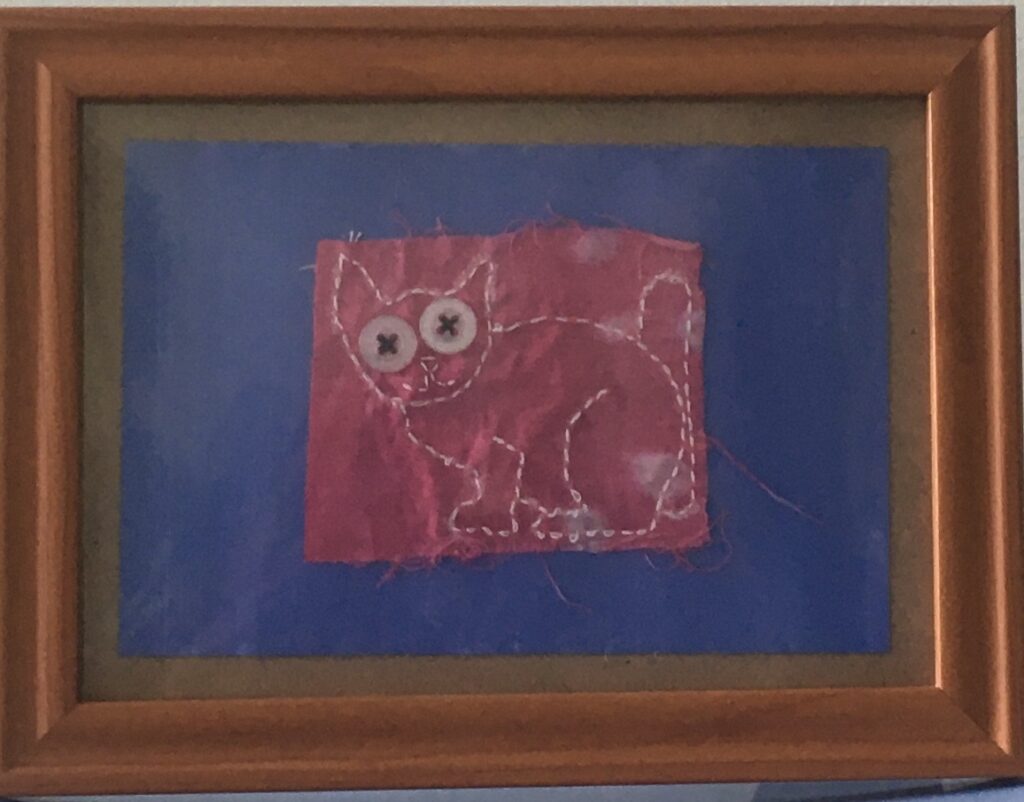 *
Appliqué cat stitched to a sprayed background of negative space.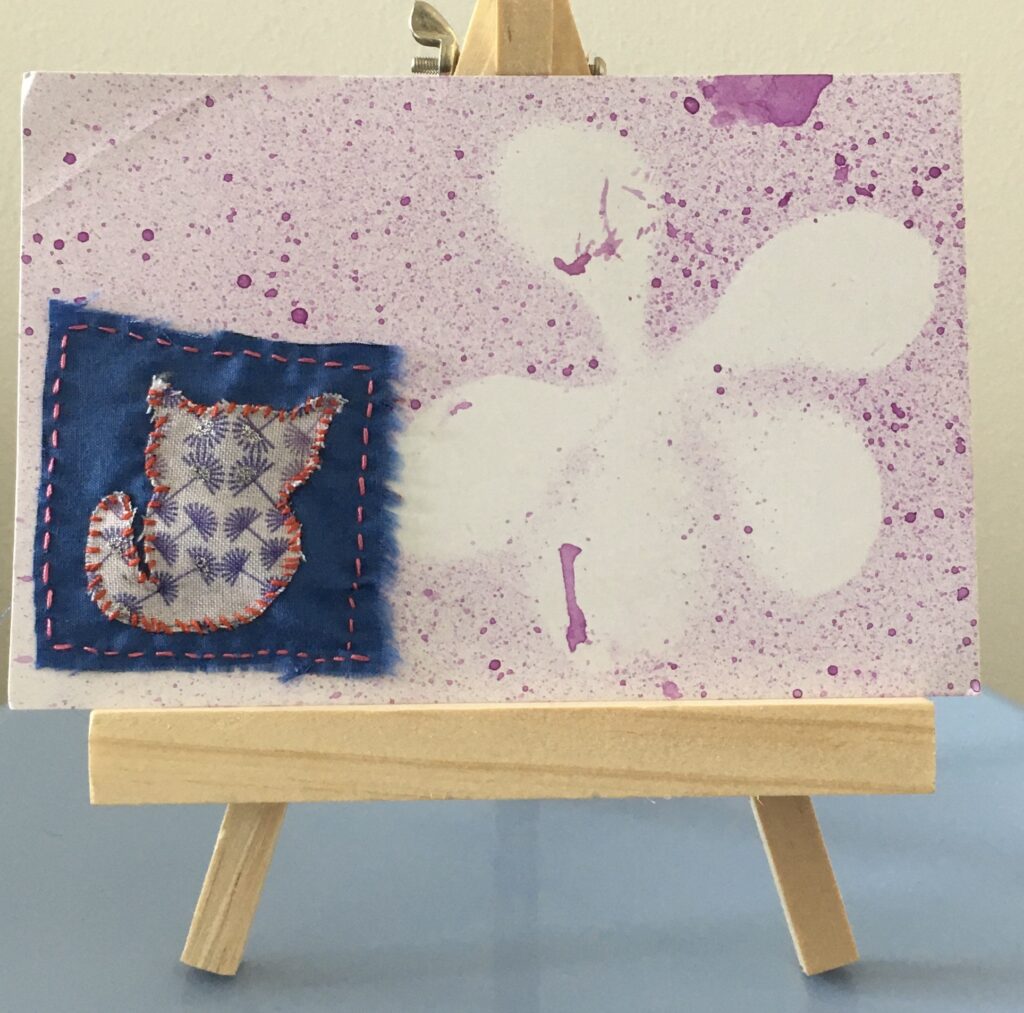 *
A dog drawn in anthropomorphic style. She wears a pretty dress and heels.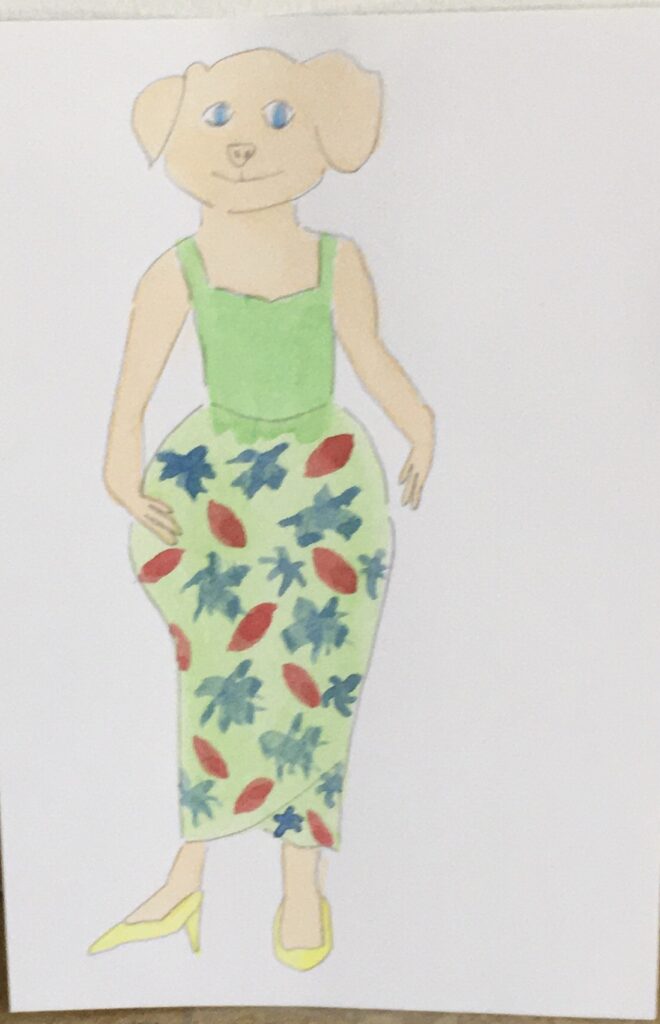 *
A dancer made up in water color and a paper skirt. The backdrop is acrylic paint.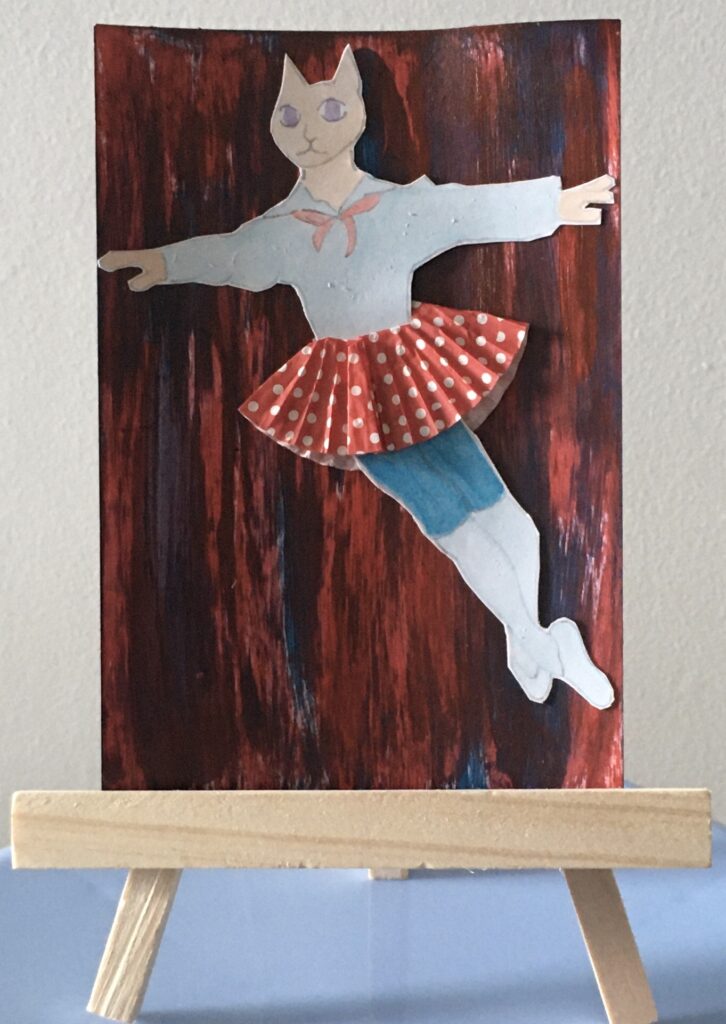 *
Anthropomorphic cat people hand sewn in fabrics, buttons, wool, & threads. This is how I sewed wool hair to the characters.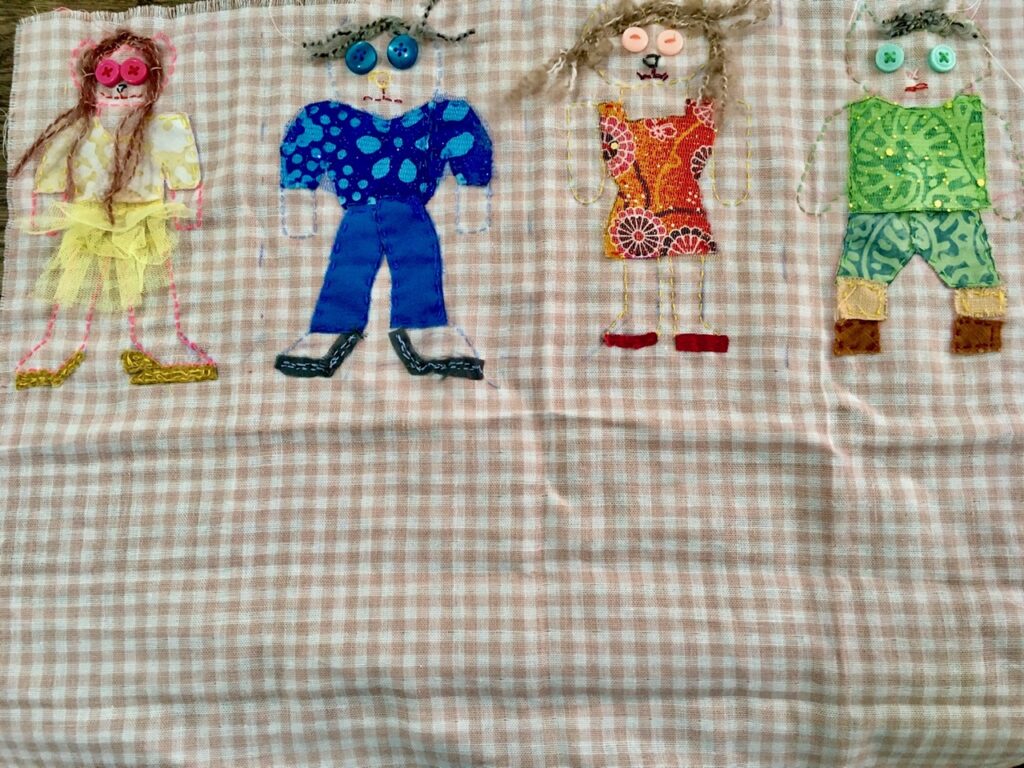 This cat is all ready to tan herself in the sun. Drawn on ipad Pro, with Apple pencil. Digital art.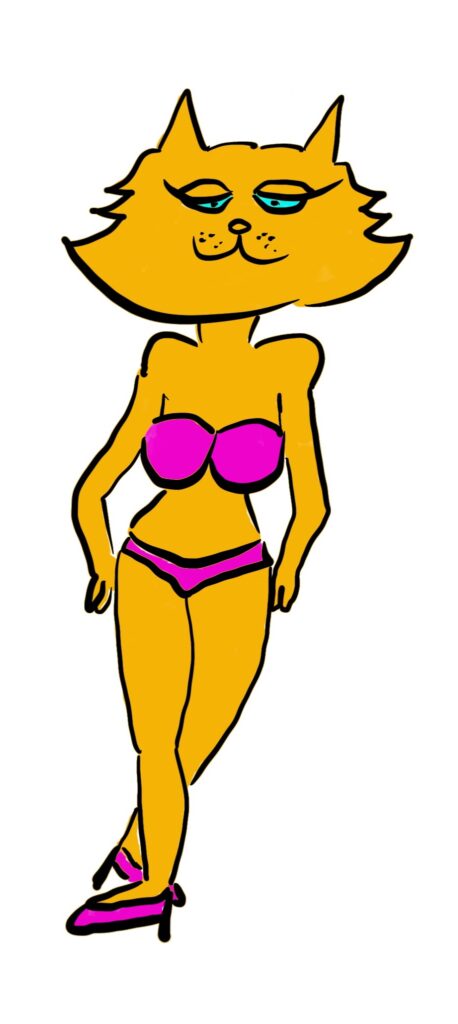 *
Cat hand sewn with lavender thread & glued on wobbly eyes. Why the cross stitch? To create a rich texture of stitches. You can glue on this whole patch somewhere permanent, or on something which you always carry about.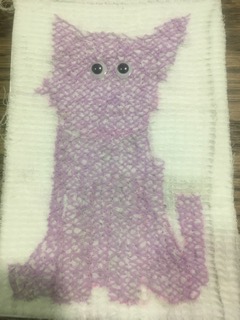 *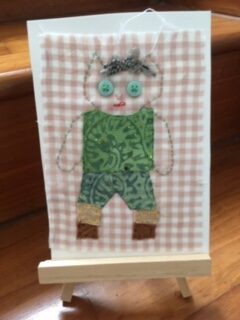 Hand sewn applique with wool hair, button eyes, & cloth for clothes. The entire applique on its own background, is cut out and pasted on card paper. It is placed upright on a small postcard sized frame, for picture taking. This art work is sold without the wooden stand.
Tie-dye fabrics are beautiful cloths to work with when making collages. They have their own dyed patterns of networks of lines. Her hair is in multi-hues of red, brown, orange, violet, purple, pink and maybe more complex shades.
*
The outlines for this cat maybe too bold in black. It has wobbly eyes, glued on after sewing attachments for the wool. The yarn had its own bits of colored ribbons.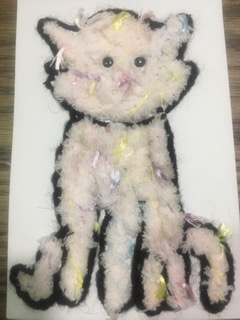 *
I strung real beads to make a necklace for this pretty woman. She wears a teal colored glittery strapless top. Although the shiny does not show well in this photo. I'm telling you she wears a shiny top and you'll have to take my word for it. If you wish to use her necklace as a bracelet, cut along the lines of her shoulders. Bend the card paper a little to slip her necklace off. I had the idea of using real beads to encourage participation. The owner of this art can use the beads as an accessory. The small size of the subject's necklace means a human can only wear it as a bracelet on the wrist. The string is elastic and accommodates stretching.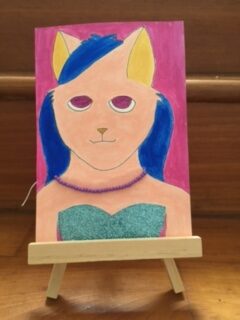 *
This anthropomorphic Cat-Woman is pretty with flaming red hair and a purple top.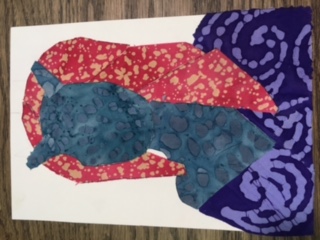 *
This red-brown dog is coated with real wool. After which, a pair of wobbly eyes was glued down.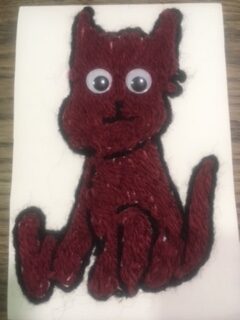 *
She's all dressed up. Her hair'd done and her sideburns are brushed. Her red eye shadow complements her shiny red strapless top. This Cat-Woman wears a string of faux pearls. The own of this art may detach this necklace to use as a bracelet. The method would be to cut along the lines of the woman's upper arm and shoulder. (Left and right sides). Bend the left and right sides together, to slip the necklace out.
*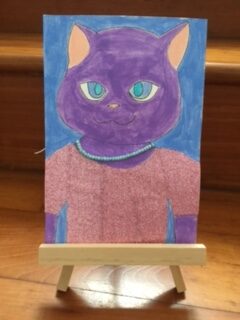 This Cat Lady wears a necklace of beads that matches her eye color. Her top is pink and shiny. You can detach her necklace to use as a wrist bracelet.
This pink Cat-Lady has a sparkly white top. My cam couldn't capture the glittery top. You'll have to take my word for it. Her purple beaded necklace is strung on elastic. If you own this art, you may share her accessory by detaching it safely, in the manner described as for the above art.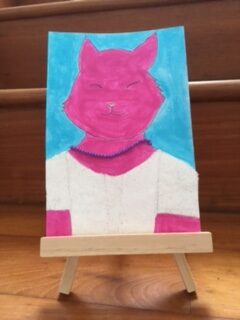 Guess what caught her attention? This Cat-Woman is dressed in her gold finery and faux pearl necklace. Her beads are detachable, to become a bracelet for her human art owner.
This handsome young Cat-Man wears a green, glittery shirt. His black beaded choker adds to his style and charm. He's in acrylic. If you fancy his black beaded necklace, try my suggested method of cutting and slipping it off his neck, through his chest.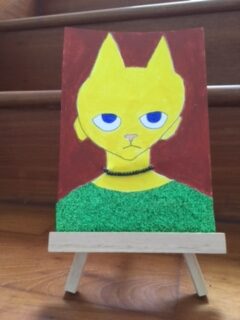 *
Cat-Girl with purple hair models her unique print on her blouse. Her skirt is customized with a lace pattern running across her hem line. Her background is decorated with dreamy pink bubbles. This art is done in acrylic, fabric, lace and paper confetti.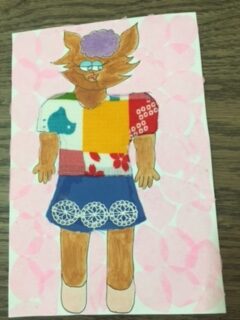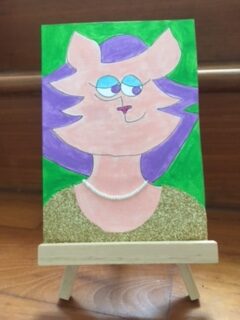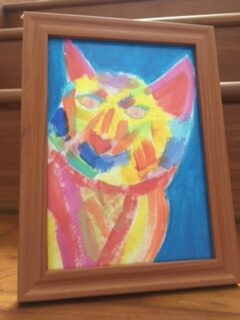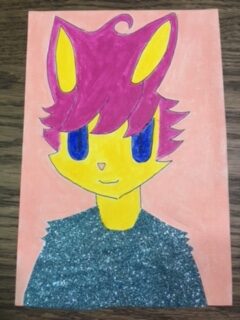 *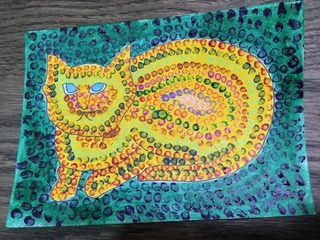 *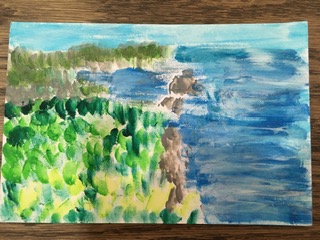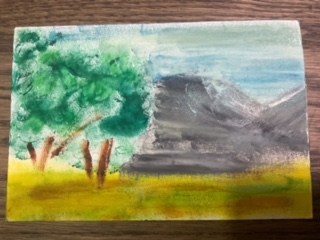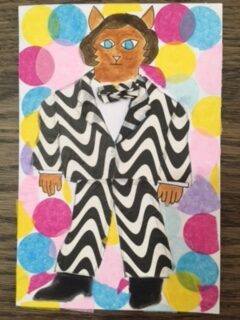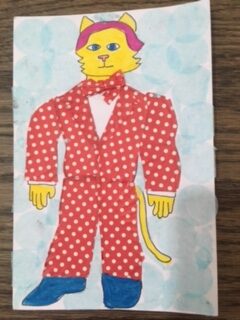 *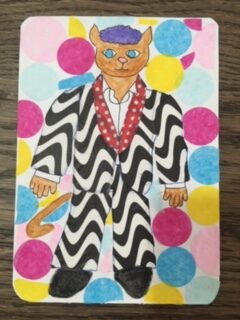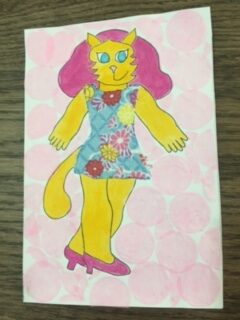 *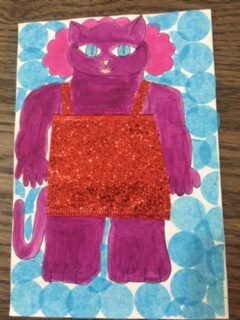 *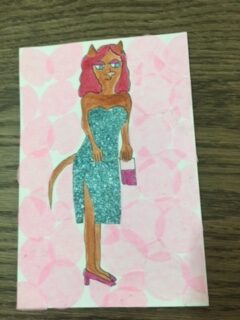 *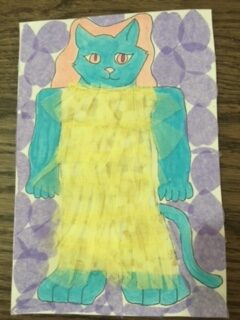 *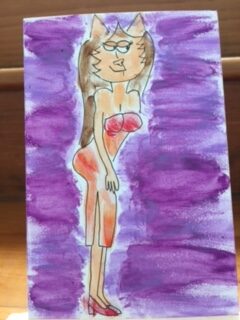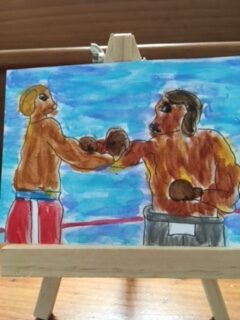 *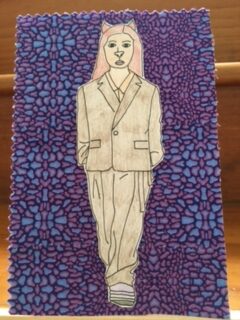 *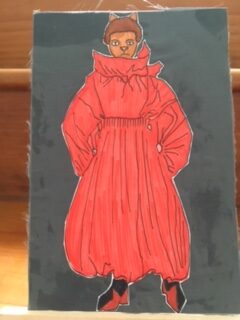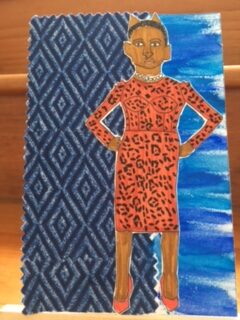 *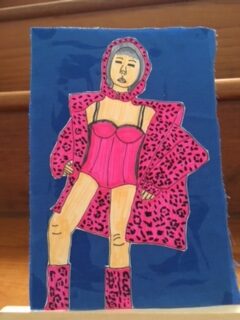 *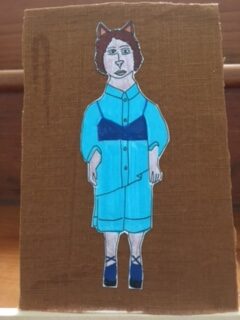 *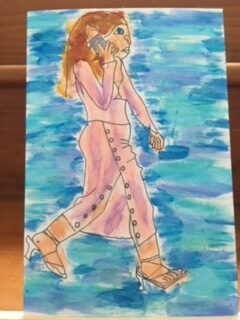 *
*
*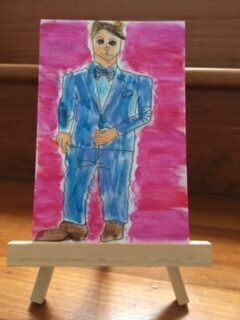 *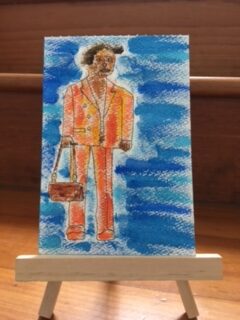 *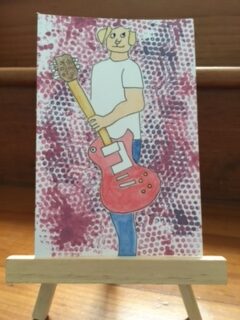 *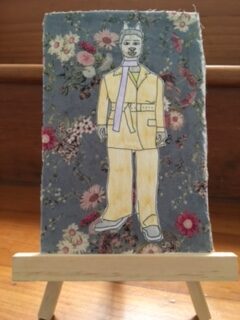 *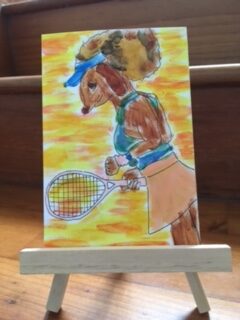 *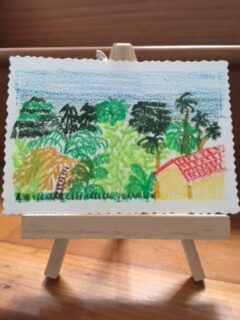 *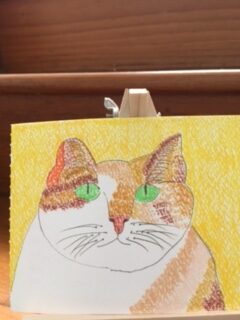 r
My friend is selling abstract art here.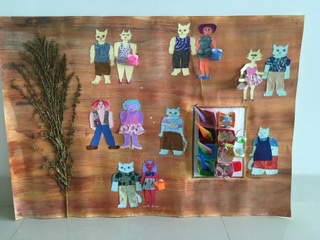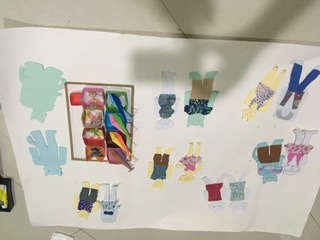 This was the draft stage.