Overheard at the gate, a conversation between two men who discuss whether a woman is a ho and hooker.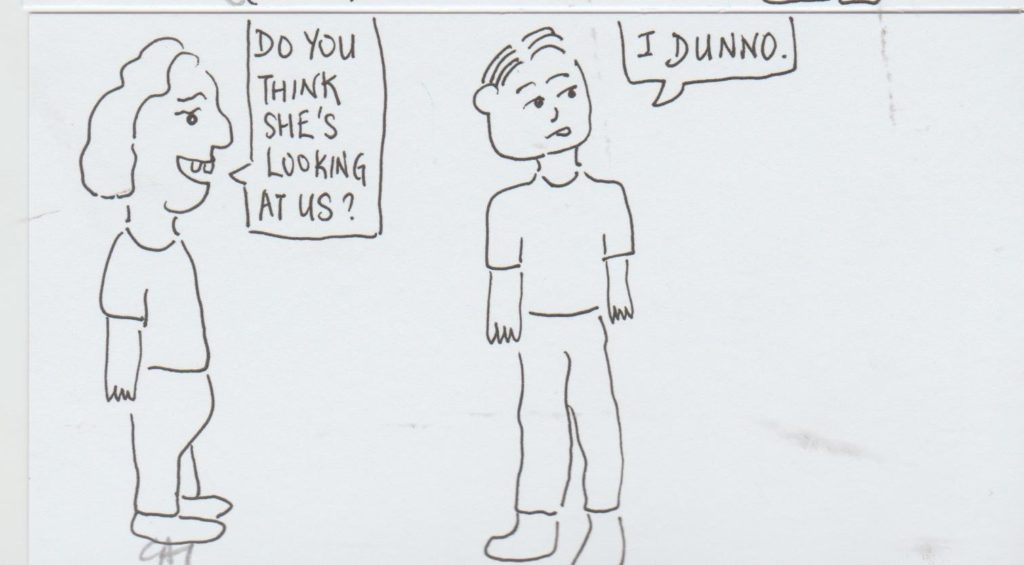 Modern twist to foxy tale, aka "The fox who claimed the grapes were sour". 
An old man working at the entrance of an apartment block often spoke to his colleague and shift duty partner. He talked on a wide variety of topics because he gossiped to manipulate his colleague to his own advantage.
Old Man: "Don't be friendly to that woman. She's a honey trap. She'll ruin you. She'll drain your money and continue to look for more men to scam."
Young Man: "She is doing her housework by herself. I don't think she has the time to mix and socialize with men or women."
Old Man: "Mark my words or you'll regret it! She's wicked. She got her apartment by cheating old men of their savings. You better avoid her. She's looking for men to cheat."
Young Man: "How do you know all this? You're only guessing. If she's so rich, why don't you ask her for money for your medical expenses?"
Old man: "She's a bad and dirty woman. Woman who takes advantage of men to cheat their money. She's not kind. She can't afford it. She won't be giving me money. There's no use asking money from her. She sucks money out of men."
Young Man: "She doesn't go out much. I work here. I'll know if she leaves her home. She has to walk past me at my station. I don't think she goes around to fool men into parting with their money."
Old Man: "I know she's a bad woman. I've seen her smile at men. I've seen her smile at her male neighbors."
Young Man: "I don't think that means she wants to sleep with the men."
Old Man: "I tell you, there are woman social escorts and hookers in her apartment block. I know a hooker when I see one."
Young Man: "Maybe you've seen too many hookers. You're being paranoid. She doesn't dress like a ho. She wears old fashioned clothes."
Old Man: "I tell ya, she's hiding sexy negligee under her long skirt. Its a trick those women use. She may not be wearing any knickers at all. These women pretend to be virtuous by wearing big, loose clothing. Once they entice a man, they strip, seduce and trap the man."
Young Man: "Usually women who want to seduce men will wear sexy clothes. They don't waste time hiding their bodies under granny clothes."
Old Man: "Don't scorn me. I'm older and wiser than you. You should leave all these dirty women alone. Leave them to the experts like me to handle."
Young Man: "Me thinks you're trying to discourage me because you want to tackle her for yourself."
Old Man: "No! You're wrong. I don't want dirty women like her. She'll trick me and steal my money."
Young Man: "I thought you said you had no money?"
Old Man: "Ya, I have no money. That's why I don't want to talk to her."
Young Man: "Are you sure you're not trying to talk to her yourself? I saw you smiling at her the other day."
Old Man: "No, I wasn't smiling at her. I hate her. I never smile at her."
Young Man: "There are many handsome and young men around here. She won't be interested in old man like you."
Old Man: "You stay away from her. Young man like you, don't know much about the ways of the world. You stay clear from trouble."
Young Man: "She doesn't even look at me when she walks past. I don't think I'm in her cross hairs. I don't think I stand a chance of getting into trouble with her."
Old Man: "Yes, stay away from her. She's a dirty woman. I know her kind."
*The eavesdropper walks out of earshot.*