This recipe for oatmeal cookies requires no baking. If you have a surplus of oats or instant oatmeal, and you're tired of eating oatmeal, consider turning it into cookies. Here is the basic recipe.
How to make No-Bake Oatmeal Cookies
Ingredients:
1/2 cup almond milk
3/4 cup fine sugar
4 tablespoons unsalted butter
1 teaspoon vanilla essence
1 teaspoon maple syrup
2 1/2 cup instant oatmeal
Method:
Place the butter, milk and sugar in a small pot. Light a low heat flame and melt the mixture. Continue to simmer for 1 minute. Switch off the flame. Add the vanilla extract and maple syrup. Stir. Add the oatmeal and stir to mix well.
Tear a small sheet of aluminium foil and place it on your kitchen counter. Using a large spoon or soup ladle, scoop up the oatmeal and place it on the foil to cool. Repeat this scooping until all are shaped and put on the foil.
After cooling, store in airtight box. Refrigerate to keep as a source of cookies, for the maximum duration of 5 days.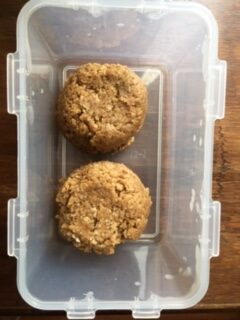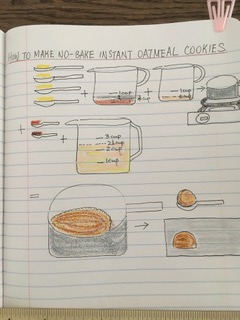 If you like peanut butter, you can add this ingredient at the first stage when you put the mixture to boil. Similarly, if you like raisins or chocolate chips, add those in.