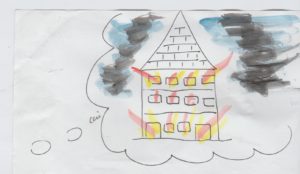 This dream image brings bad news. The dream interpretation means you're likely to lose money in a bad deal. Your building (invested money) is damaged by fire. In waking life, you may have invested money in a project, financial market, or business. Take the dream symbol as a warning. If the threat applies to your situation, try to quietly withdraw from financial entanglements and get back as much money as you can.
I had a dream about fire. I think it was triggered by a real life episode where I passed by a burning site. A warehouse for a departmental store caught fire. It was a multilevel building and flames engulfed its entirety. This episode bore personal meaning for me as the site was a few miles from my home. Several fire engines were battling the fire. Although there was no danger of it spreading to the surroundings, I felt concerned as it was in my neighborhood.
In my dream, I saw the same fire again. It was burning with intensity. After I awoke, I started to reflect on why I had that dream. Did I have some issue that was burning and causing destruction in my life? If there was, I should be focusing on it. I should think about how I would handle my personal fire in my life.
The meaning of dreaming about fire was a sort of wake up call in my life. The metaphorical fire surfaced as a dream symbol and it was time to deal with it.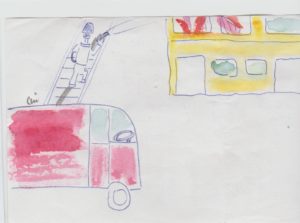 The meaning of this dream is that good news will come. The bad part, which was the fire, has been defeated. While some damage has been done, yet the major battle was won. In the dream, if you were the fireman, it means you did a good deed by putting out the fire. In real life, you might have done positive things to help someone or yourself. If there was bad gossip, someone may have dampened the heat by throwing common sense and denial over the nonsensical talk.
Have you dreamed of being a fireman?
September 24, 2016 – I dreamed that a warehouse in the next neighborhood, caught fire. It was a tall building, of around four levels high. This was not the first time that this particular warehouse became ablaze. Thick black smoke billowed out from windows that were broken by the intense heat. This warehouse's neighbors were a flatted factory and another warehouse. the workers were evacuated as a precaution. Several fire trucks were on site battling the blaze.
Updated – October 17 2018 marks the 164th day of my 365 day project on analyzing dreams.