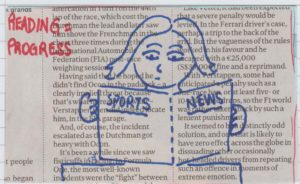 Dreaming of reading means progress is happening. For reading adds on to the foundations of knowledge. Reading positive material enriches the life of the reader. Reading increases the knowledge on a wide variety of subjects. If you dream of reading, you are searching to advance your knowledge, to upgrade yourself and eventually, to haul yourself up the ladder of success.
Some people said it is impossible to dream of reading because the brain can't read when you're asleep. The dream of reading is more about a fixed message being played out during the "reading" in the dream. There is no actual live reading, only conveying the message which was fixed by the mechanism of dreaming.
While it is not possible to read entire pages in a dream, it is possible to "read" one sentence. This is because the brain has decided to use that one sentence (taken from a memory), and play that in your dream.
May 1, 2019 – Dream on reading newspapers.
Prompt – photo prompt of an open book.