This is what I call good Daily Addictions: writing and drawing prompts by "rogershipp".
Daily Addictions 2018 week #35.
The host has chosen this list of words for the respective dates:
September 2 – infinite
3 – sage
4 – wrangle
5 – ambition
6 – controversy
7 – generate
8 – possess.
Each post can be added with the host's Mr. Linky.
Here is my first post on Sep. 3's word sage:
The sage is gifting you a sprig of sage.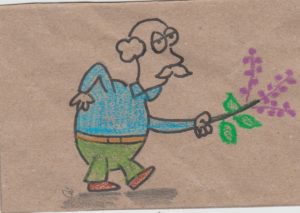 What does it mean when you dream of a wise old man (sage)? If you are facing difficult decisions in your waking life, this dream image means you need to consult a wise man. Look for advice from an experienced person. Sage can also mean the herb sage, which has several good uses. Maybe you need some home remedy from the sage, to boost your health.