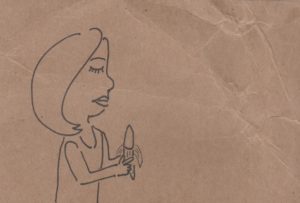 Peel banana dream
Sometimes, when a sleeper is hungry, they dream of eating food. The hunger pangs are the stimuli which send signals to the brain. What is the quickest, delicious food that can be eaten without preparation? The banana can be the perfect answer to hunger.
Erotic dreaming peeling banana
If the dreamer had sexual fantasies of erotic dreaming, then the imagery of peeling banana can be interpreted as a dramatization of their secret desire.
Prompt:
#sbsadrawingaday August 4 2019, #sbs, peel, banana plushie photo.