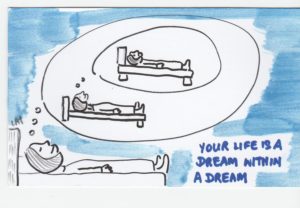 Real dream analysis:
Lucid dream fantasy
Early in the morning, when I was struggling to wake up or continue sleeping, images ran through my mind. I was lucid and realized the images were desires. Dreaming while I was lucid. The dream was a fantasy of what I imagine might happen, because I desired to write my life.
My dream fantasy saw my favorite person speaking to me. My fairy tale became my life. At the same time, I was aware my mind was making this up. My lucid dream was created because of my desire to see my wish fulfilled.
I chose to wake up instead of imagining what I desired to happen.