A dream of a threatening phone call was triggered by a memory of a real phone call I received. First, let me recount what I heard on the phone. A male caller said my male relative from my family was being held at a place. He asked me for money. I hung up because that call was fake. My relative was staying in my apartment and that call was a scam to extort money.
Many months later, I dreamed about having a phone conversation with a stranger. The male caller asked me for money for an unspecified reason. I was frightened and started mumbling. That was when I woke up and realized I had a dream.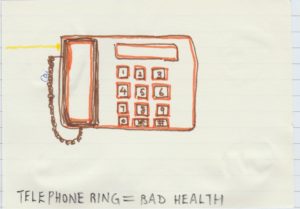 An old, stressful memory is likely to be retained for a longer period of time than a pleasant memory of short duration. For many people, traumatic episodes are likely to be remembered more than happy ones. That is why threatening dreams are likely to be replayed more often than happy dreams.
Prompt – 5. Imagine you receive a threatening call from a stalker, blackmailer, ransom etc. Prompt "phone call".