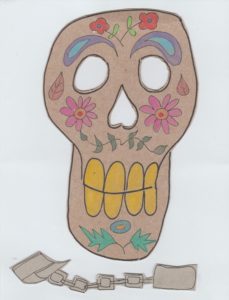 Dreaming of skulls & shackles
To see a dream image of skull or skulls, can be frightening. If you ad watched a horror movie the day before you fell asleep, then this dream was probably triggered by your recent event of watching a scary film.
If you had experienced any other scary event, that could also have triggered your dream about skulls.
Dreaming about shackles can mean you feel restricted (restrained) in your current context in life. Perhaps you desire freedom to make some changes but you're prevented from doing so. Dreams continue the themes you face in waking life. If you were dreaming of shackles, it could mean you dislike the rules and conditions of your situation.
Prompt phrase – skulls and shackles at puttingmyfeetinthedirt.com for August 13 2019.