If you dream of a hole in the sky for birds to fly through, this has a meaning. Where do the birds fly into when they disappear into the hole?
If this dream is examined in relation to real life, it hints that there maybe a secret hole/ place, where things or people disappear. It can mean theft where things disappear. Dreaming of a hole where a symbolic dream image like birds disappear into, can suggest there is an outlet (channel) that receives the disappearing bird (or other dream symbols).
If you dream of birds, you have to think on what this symbol means to you. For dream meanings are specific to the dreamer. If you have pet birds, or work with birds in a pet shop or bird park, then birds are everyday occurrence for you. In this circumstance, your dream merely continues the theme you see during your day. Birds are common to you so dreaming of birds does not hold special significance to you.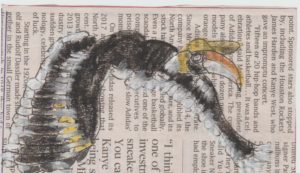 Sunday prompts from Sunday August 25 2019 aooga . This week's writing prompts are –
Where the grass grows uphill
A hole in the sky for the birds to fly through
Written in fire