Is batik style art ok? Does anybody like cats done in oil pastel (crayons) and watercolor? I love them but I'm biased because I made them. Which creator does not like their own art?
I've decided to put my art on bags that can be re-used, and recycled for multiple use. Its because I know everybody uses bags for going out, shopping, and carrying anything. We should use bags that can be re-used multiple times, to reduce reliance on plastic bags. Plastic pollutes our environment and takes around 10 to 1000 years to decompose. We buy groceries weekly, or even daily. Every time we buy something desired, we need a bag to carry it home, or to our next destination. When we use a recyclable bag, that is one less plastic bag to pollute a landfill, or ocean.
If you're too shy to give tote bags as Christmas presents, you can still give a tote bag as a secondary present – when you use a bag to carry the present to your receiver. Imagine how many plastic bags each person can avoid using, when they use a re-usable bag instead.
The material supplier is Zazzle, who will ship to buyers. You can see the wide selection of materials that can be printed with artistic designs. My store is here. Its spanking new.
Here are my art, which will be on recyclable tote bags.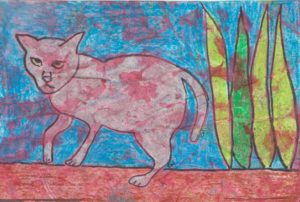 *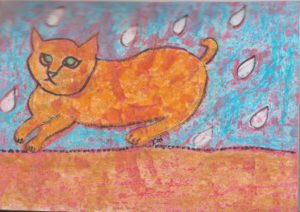 *
If you like pink and purple, this cat is for you.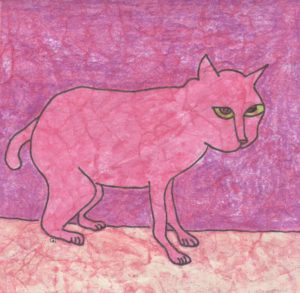 *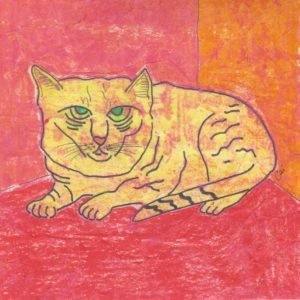 *
I love this cat for its fluffy, thick fur.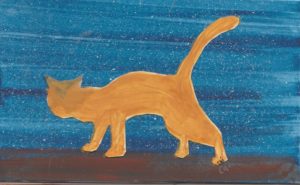 This cat was done in a different style.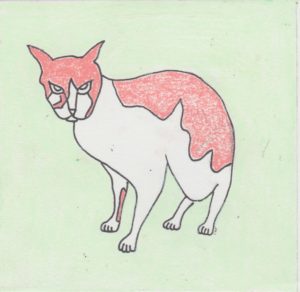 This beauty has a fierce face because of its natural markings.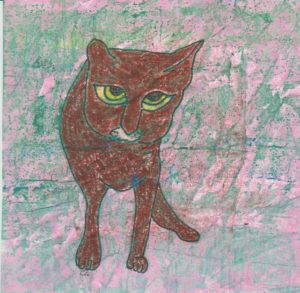 *
Cats get into different poses that don't always show all of their limbs. This cat stretched itself gracefully. One of its legs and tail are hidden by its body.
*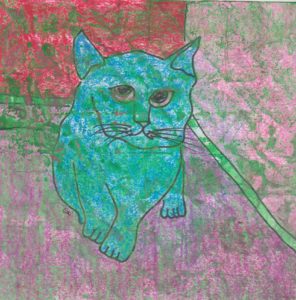 *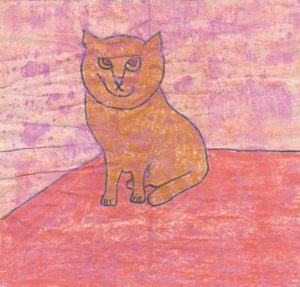 *
I like this cat because its face is so smug that it resembles an owl's face.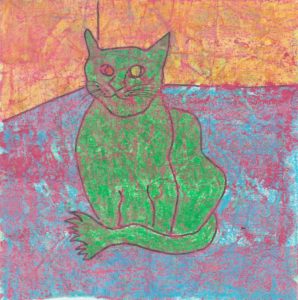 I like this green cat with different colored eyes. Sometimes, a cat's eyes appear to be of different colors, when light shines on them at different angles.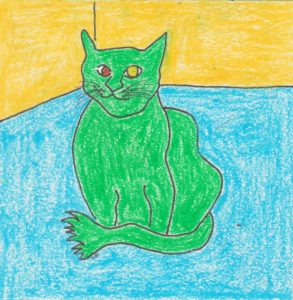 This is the same cat, before the procedure of applying watercolor was done. Which cat do you prefer? I like the watercolored cat.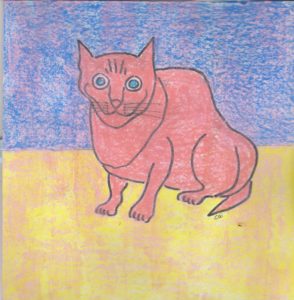 I like this well fed cat. The water color batik effect was prominent on the wall (background) and floor (foreground).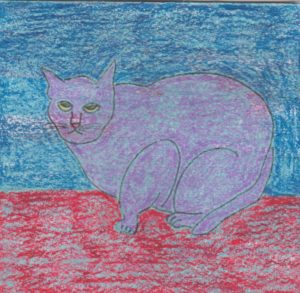 I didn't draw this cat well. My bad.
I like the effect of paint on the yellow crayon wall.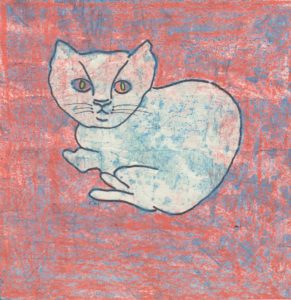 This is a young kitten and it looked shy on the day its photo was taken – it was not ready for its close-up.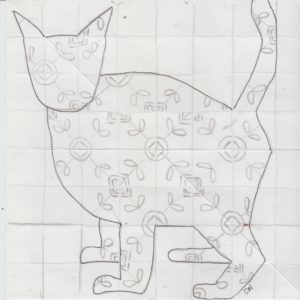 If you buy this design, you can color in the pattern to customize it to suit your taste.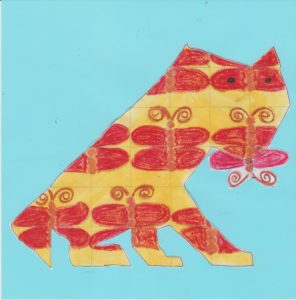 Butterfly print on cat! Just a joke to say that this cat ate so many butterflies that its coat became patterned with them.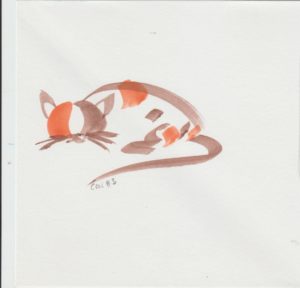 A round tipped brush produces different type of brush strokes.