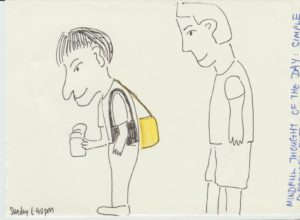 On a consecutive Sunday, I saw the same middle aged couple at McDonald's. They bought one ice cream cone, again for the man. I felt warm at the thought of the couple's sweet gesture of spending time together, even when the other half did not eat ice cream.
Mindful Thought of the Day:
The couple that spends time together, stays together; at least, for the consecutive Sundays that I've seen them
Mindful Doodles is a series of comic/ cartoon drawn on assimilating stimuli that comes into my mind. My surrounding and environment are dynamic. As events happen, the stimuli enters my brain and I pay attention to them. I am not mentally disturbed  as I pay due respect to each stimulus. I ponder upon how I would deal with the stimulus, to manage the situation. I try to discover what lesson the Universe bestows on me in this encounter. I write my discovery as my Mindful Thought of the Day.