Hunting Evil: The Hunt Begins (book review)
I gave one book review away and I'm writing another because I don't want to use the same review in two websites.
James Kelly has a bright future ahead of him as an author. He introduces his new series, by informing us of the title; "Hunting Evil: The Hunt Begins". The main character (M.C.), is Johnny Scott, a former detective turned Private Investigator (P.I.). It is inevitable that every cop makes enemies in the nature of his job. Johnny's past catches up with him. His old case file comes alive when a dead man's partner seeks revenge. It is more than an eye for an eye. The killer wants to destroy Johnny's world and make him suffer slowly, to witness the deaths of his sister, boyfriend, ex-colleague, and same said former colleague's wife.
What book is without women? This book is teeming with women. They are in the plot because the evil legacy of the original killer, dubbed the Night Stalker, is continued. Women are essential as supporting cast, as well as occupying the center stage. There won't be spoilers. You will discover how the women fit in, when you read the book.
P.I. Johnny Scott is up to speed with modern gadgetry. Bet he has an app for every need!
This book uses the latest high technology terms of references. Remote viewing, apps, trackers, smart phones, state of art home alarm systems…. If only I was also selling these equipment from Amazon's affiliate links!
I wrote the book review below and it is posted on Amazon, on the author's book page of Hunting Evil. This should be known because people may be puzzled to see duplicate content and wonder why I have the review here too.
Hunting Evil: The Hunt Begins
James Kelly has a new series of books in the genre of crime. He opens his first volume with a big bang (pardon the pun). Johnny, a former detective turned P.I., has the classic bait and trick pulled on him. His old case file suddenly came live when a dead killer's kin seeks revenge. It is an eye for an eye. Johnny's sister Jenny, near and dear to him, was the sacrificial lamb in the second wave of the Night Stalker killings.
The calling card is in the modus operandi. Killings are done in the style of the old killer, to honor his evil legacy. The charade plays mind games on Johnny. Did a dead man resurrect to become a zombie killer? Or did Johnny kill the wrong guy? Johnny has to hunt the evil, before it hunts him down. It was chilling to see Johnny's dearest and nearest ones targeted by the creepy villain.
Mr. Kelly drops hints in his narrative. Have fun jotting down the names of suspects who might be the killer or conspirators in this ring of crime. The motives for the second wave of Night Stalker are surprisingly modern. The equipment are high tech and we definitely can learn a trick or two for our home security.
This novel is relevant to our time and what is happening in society. Take care of yourself and your young ones. We never know if there is a Night Stalker copy cat lurking nearby.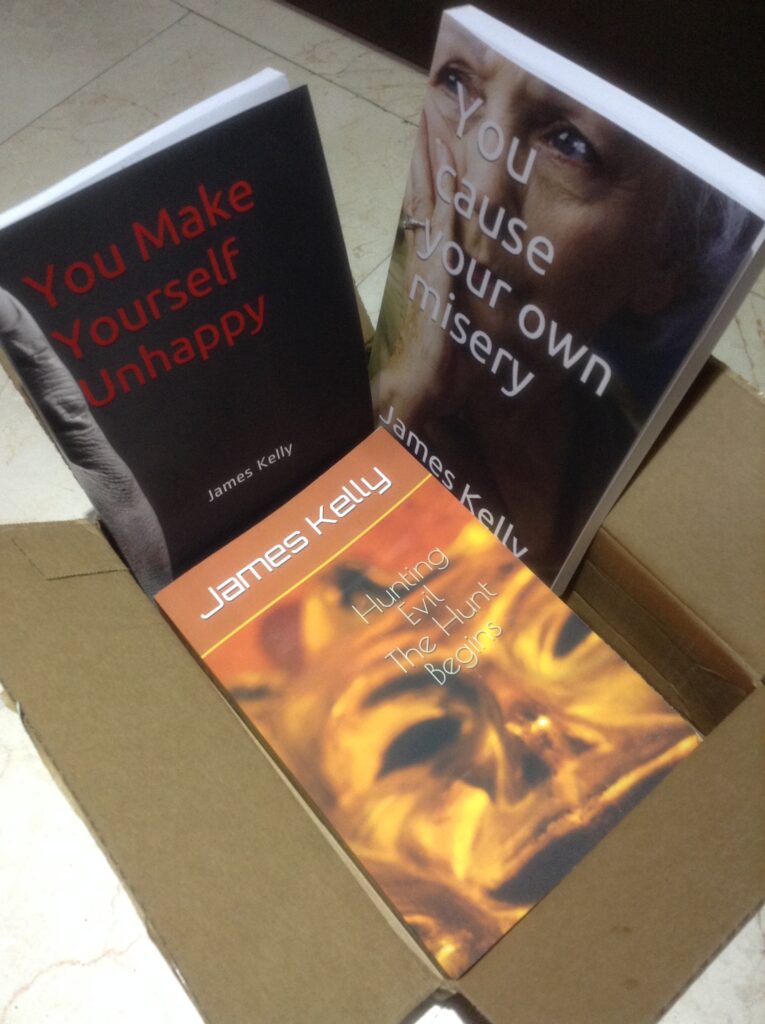 In case you're wondering, the other two books in the box are also written by James Kelly. They are self-help books. The book reviews will be in this blog.
#PaidLink #ad which means Amazon may give me #CommissionsEarned if you make a purchase. Thank you!