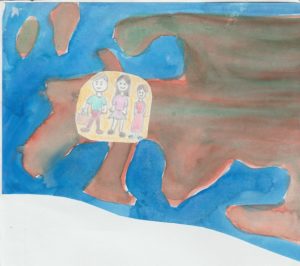 The mixed media picture is supposed to show a small family in Europe. The glob of brown is the land mass of Europe, spanning into Russia and etc.
Dreaming to see populations
For people who love traveling, it is common to find themselves dreaming of traveling. For dreams continue themes in waking life. As they love traveling to see the cultures of different populations, so will they continue this theme in their dreams. If the dreamers have not met or grown familiar with a new culture, they may have gained some knowledge through other means like reading or watching documentaries and shows.
Writing prompt on the word "population".
I promise to visit all genuine bloggers who leave a comment here. Thank you for dropping by.