This story was seen replayed in a dream. It appeared so far fetched that it almost couldn't have happened in real life. Since dreams take most of their content from waking life, dreams also took this story, to replay. Karma took its place. The dream was then replayed as a reminder and warning of old threats to one's peace.
There was an old woman who lived in a small town. She ruled her family like a matriarch. She loved to eat but was too tired to cook much. She had a daughter-in-law living in one of the bedrooms of her house Her son was financially strapped and couldn't afford to buy his own home. The old woman refused to allow this in-law to cook in her kitchen during her day when she was awake. She wanted her kitchen to be available for her personal use, 24 hours a day, every day of the week.
The old woman cooked and enjoyed eating hot food while her daughter-in-law cooked at 4:30 am while she was asleep. The young woman cooked sufficient quantity of food for three meals, at one go. She wasn't allowed to use the kitchen during the day, while her mother-in-law was awake. So she sustained herself by a daily batch cooking method.
The young woman prayed hard that she would one day be liberated from this abuse and other forms of ill treatment from the old woman. After two years, her prayers were answered. She could move out to a new home.
Life went on. Slowly, the old woman told her son that she was losing all of her teeth on her upper jaw. She had fought to keep her kitchen available for her personal cooking and ate food comfortably. So much so that her teeth decayed from the abundance of bacteria in her gums and teeth.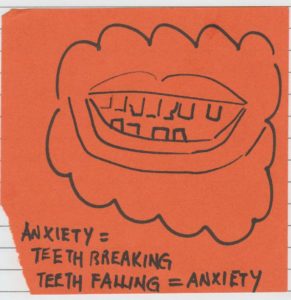 Prompt for Aug. 13 2019 – karma from OneDailyPrompt.wordpress.com.