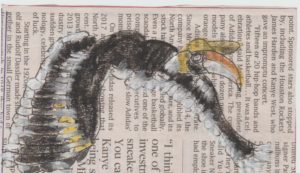 Like my chick? I call it a chick in the sense that it is a young bird.  It may become my side-kick if I can manage to create suitable material for it.
This is one of my WIP and will have to be my current choice of adorable animal. Posted for
#drawingprompt 20180823 most adorable animal.
I used newspaper background  to recycle paper and also for the effect.
Hey, @realOMU, I haven't drawn my book cover because I was torn on what to draw. Maybe I'll get back to that drawing prompt another day.