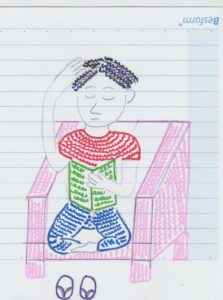 I met this young teen in a library. She was so relaxed while reading her book.
Read A Book Challenge was inspired by several people. One was a kind lady, @MonzerAmal who started her book club #WindfallBookClub (on Twitter) to help market books of Indie authors. If you're an author, buy one of the books in #WindfallBookClub's recommended list and the owner of the club will buy your book in return. It functions like a one-for-one book swap. You buy an author's book and your book gets purchased in return.
If it were not for this book club and my own research reading, I would not be reading books. Initially I wanted to call this "Read A Book 30 Day Challenge" but changed my mind after I realized I would be reading a book daily, or almost every day, and this would be longer than a 30 day challenge. So I'm naming this "Read A Book Challenge".
In today's busy world, it takes allocation of time to permit reading of a book every day. I read my newspapers every day and this eats up time. Then I have to find time to read a book. I won't complete the entire book in one sitting but at least, I have read a part of a book… every day.
Some of the books I read were not from #WindfallBookClub list.
Read A Book Challenge
June 27 2019 – Read this book "The Thorn of Lion City: A Memoir" by Lucy Lum.
June 30 2019 – Some Chinese Ghosts by Lafcadio Hearn.
July 3 2019 – "To My Beloved Heart" by James Marchiori.
Note – These books are available on Amazon.